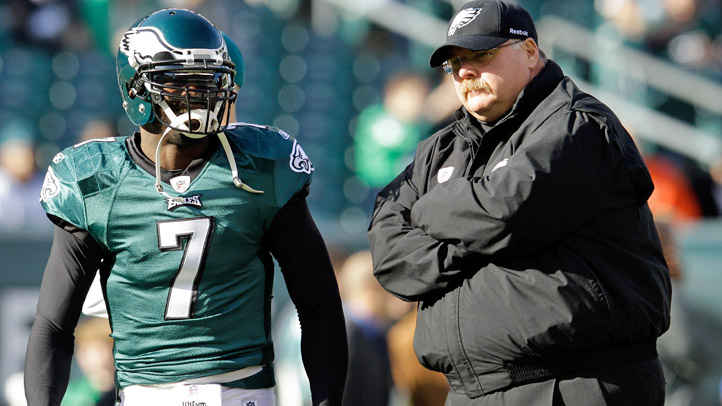 Michael Vick, who has yet to leave a preseason game healthy, said during an interview with USA Today that he's "80 percent" recovered from the rib injuries he suffered against the Patriots on Monday. That's the good news. But -- you knew there was a "but" -- he can't magically change his style, which means that there's a good chance he'll continue to take a beating while trying extend plays.

"I just let everything happen in that moment," he told USA Today. "I can't go to the line dictating what I'm going to do," he says. "I can't go to the line trying to predict everything that I'm going to do. That would hurt you're game a little bit, because I might miss somebody getting open. I have to go through my progressions to the best of my abilities."

Earlier this month during an appearance on NFL Network, wide receiver DeSean Jackson made it sound like Vick had learn his lessons about taking needless hits from defenders who outweigh him by 50-100 pounds.

"I think (Vick's) caught on man," he said. "I don't think he wants to take them hits and I don't think he wants to be hurt no more this year. Sometimes when he gets hit or sometimes when he runs I get mad because a lot of times because he doesn't know how to protect himself. This year, Obama, you know everybody has been on him."

In case there's any confusion, that would be Barack Obama, U.S. President, who told Nnamdi Asomugha earlier this summer to relay a very simple message to Vick: "slide."

For all the talk about an older, wiser quarterback, we continue to see the same guy whose game at times can border on reckless. It's something to watch when Vick's healthy, but that's the problem -- keeping him on the field.
So while No. 7 is the undisputed starter, the question becomes for how long. We don't bring this up because of Nick Foles' impressive showing through two preseason games but because Vick's contract might force the organization's hand next offseason.
ProFootballTalk.com's Mike Florio points out that the six-year, $100 million contract Vick signed last year was more accurately a two-year, $32.5 million deal. This means that following the 2012 season the Eagles will have to decide if they want to fork over $16.5 million for Vick's services in 2013. There's a lot that goes into such a decision but at the top of the list has to be Vick's health followed closely by Foles' progress.

But this is a conversation for a later time. For now here's the deal: Vick will sit out the rest of the preseason in anticipation of the regular-season opener against the Browns. Despite his lack of work with the first-team offense, center Jason Kelce says there's nothing to be worried about.

"We have plenty of [comfort] with Mike; we played a whole season with him last year, for the most part, everybody on offense is the same except for the left tackle," Kelce said via the Philadelphia Daily News . . . We've had a full offseason with him . . . we're ready to go with Mike. The fans and everybody put a lot of emphasis on preseason games, and they are important, but he was there every single day of training camp, every single day of practice, every single day of OTAs, every single day of minicamp as the No. 1 quarterback, and that's really where you're building the timing, the precision and everything like that . . . There's been plenty of time put in with Mike."

Of course, the fear isn't that Vick doesn't know the offense. It's that he won't be physically capable of executing it because he failed to heed Obama's advice.