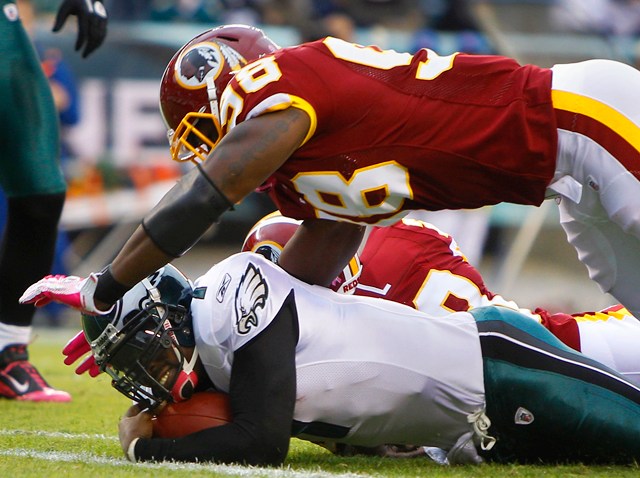 Donovan McNabb's much-hyped return to Philly quickly went from a battle between McNabb and Michael Vick to the expected preseason match up of D-Mac versus his former heir-apparent Kevin Kolb.
McNabb and the Skins capitalized with Vick sidelined to win 17-12.
Vick went down late in the first quarter with the Eagles trailing 14-0. Vick apparently hurt his ribs and chest when he was sandwiched by DeAngelo Hall and Kareem Moore on a 23-yard scramble that wound up being called back thanks to a holding call on backup guard Max Jean-Gilles.
Vick went to the locker room for X-rays, which were negative, and wouldn't return, tweeted NBC10's John Clark.
"I talked to him at halftime and he said his sternum and collarbone were hurting," wide receiver DeSean Jackson told the AP.
He was feeling sore and would get an MRI Monday morning, Coach Andy Reid said after the game.
Kolb, the Eagles preseason No. 1 QB, took over for Vick and completed his first pass for three yards to Jason Avant. He wound up finishing 22-for-35 for 201 yards, one score and one interception while posting an underwhelming 76 passer-rating.
This game quickly had the same body bag feel as Week 1 against the Packers where the Eagles lost their starting QB (Kolb), middle linebacker (Stewart Bradley), center (Jamaal Jackson) and fullback (Leonard Weaver) to injuries. Vick wasn't the only Bird to go down to injury in the first half. Wideout Riley Cooper and CB Asante Samuel both suffered concussions and returner Jorrick Calvin left with a shoulder injury. Running back LeSean McCoy was out for a few plays after apparently hurting his knee but he returned to the huddle.
Luckily Kolb avoided injury and third-stringer Mike Kafka wasn't called into action.