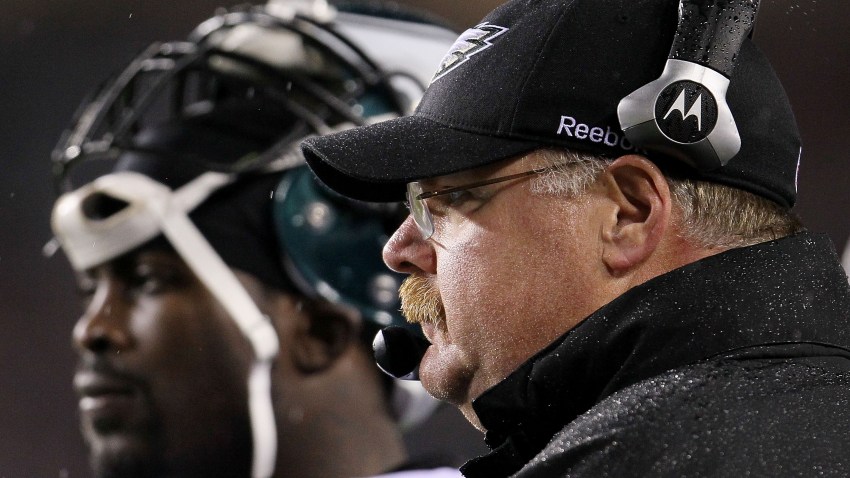 Way back in August, I discussed my interest in seeing Michael Vick start a game this season for the Eagles. Although hopeful, my assumption was that results wouldn't be particularly pretty. Obviously, after Sunday's scary-good performance, we know that was wrong.
But I still go back to my initial curiosity to see the "Vick offense":
"Someday a quarterback will come along who can throw accurately out of the spread and also pose a significant running threat. Such a Vince Young/Drew Brees mash-up would be a dangerous offensive weapon. However, until that time Michael Vick (if he has truly made strides with his throwing mechanics and watching film) is the closest the NFL has come to this ideal — an ideal both myself and Andy Reid seem anxious to witness."
Every Sunday isn't going to be quite as easy as it was against Washington, but at least for now we can say that dream isn't quite as out of reach as I thought. While in previous games it seemed that the Eagles were still experimenting with Vick in the backfield, last weekend they figured out exactly how to exploit his talents — and it made for an offense that really hasn't been successfully created in the NFL, ever.
So what happened to make this all come together now? We can talk about Vick getting "scared straight," but much of the credit should go straight to the oft-criticized Reid. Where Dan Reeves and Jim Mora couldn't succeed, Reid is building history.
How is Andy doing it? With his continued ability to teach quarterbacks, perhaps better than anyone else in the history of the league. And with his ability to scheme offensively in new and creative ways — importing a number of spread concepts into the playbook that are only enhanced by Vick's electrifying running skills.
Clearly, Vick always had the skills to be this transcendent player. Yet he's only now realizing that potential. And it bodes well for the future of the Eagles, for them to have an offense that could be better than anything we've seen before in this city. As I said optimistically in August:
"I still harbor some hope that Reid and Vick can show us something different, something special."
Last Sunday, they certainly did. Let's hope the team can keep it going.