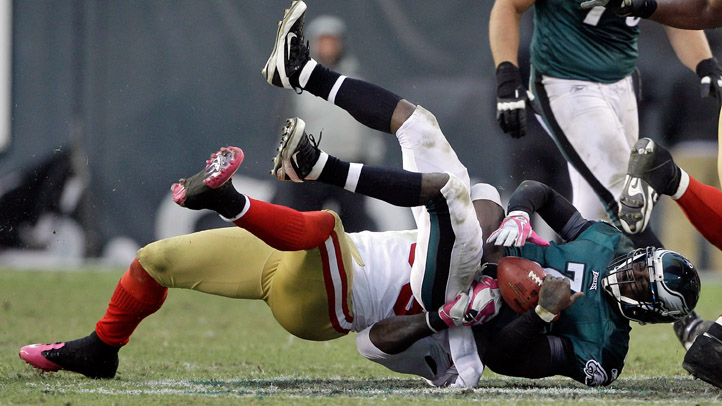 Michael Vick and the rest of the players in the Eagles locker room went out of their way after their terrible 24-23 loss Sunday to avoid criticizing the coaches.
They wanted the blame for the 49ers loss to rest on their shoulders.
Vick specifically said you "have to take the coaches out of the equation." The QB said, "It's not the coaches in general. I think it's us as players having to figure out what needs done in the moment. And everything has to be right. Everybody has to be in the right place."
Of course, everyone being in the right place might signify that coaching is the problem. After all, consistent problems knowing where to be or doing the right thing point to failures in practice and game planning. But no one wanted to say that.
"On a lot of these plays, we're getting beat when people are there," defensive tackle Cullen Jenkins said. "People have the opportunity, people have an assignment there and it's not getting done. You can't sit up here and point out the defensive coordinator because it's the players. Players have to step up and make the plays."
Safety Jarrad Page, who had his share of poor plays, similarly pointed his finger back at himself. "Everything's an excuse really -- it's on us to figure it out and get it done."
Brian Rolle, who started at weakside linebacker for the first time, was asked why the Eagles haven't played well on defense in the second half of games. "We didn't adjust to the things they did," Rolle said. "It's all about technique and believing in the defense and playing assignment football, and that's something we didn't do... We have all the right players, but not playing the scheme right makes all the difference in the world."
If it isn't coaching, what do the players need to do going forward to break this losing streak? Vick had a suggestion.
"It's just the 'over my dead body' attitude that you have to take," Vick told reporters. "And you have to be willing to give everything you got and at the same time stand fundamentally sound, be mentally sharp and letting your physical abilities show. That's gut check. Some people have it and some people don't but we're going to find out who's got it."