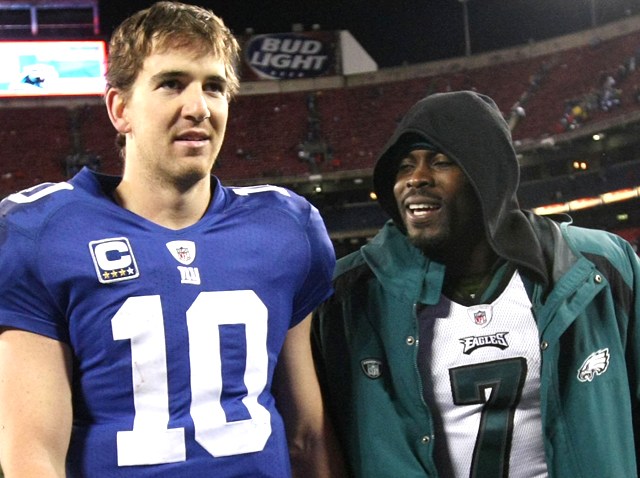 The best part about the NFL is that with games only once a week there is plenty of time in between for great debates.
With the Eagles set to clash with the Giants on NBC's Sunday Night Football this weekend let's take a look at the guys under center and pose a question for you to answer.
With it all on the line -- needing to win just one game (maybe the Super Bowl) -- which QB would you rather have Michael Vick or Eli Manning?
Vick leads the Birds into flight while Eli leads the Giants. Here are their resumes:
Vick (Age: 30):

No. 1 overall pick (Falcons) 2001
3-Time Pro-Bowler
Career 79.0 passer rating in 92 career games
12,941 passing yards (54.4 completion percentage)
83 career passing TDs, 27 rushing TDs
4,295 rushing yards
Intangible: 4-Time NFL leader in yards per rushing attempt
Manning (Age 29):
No. 1 overall pick (Chargers) 2004
1-time Pro-Bowler
Career 80.5 passer rating in 98 career games
21,092 passing yards (58.0 completion percentage)
144 career passing TDs, 3 rushing TDs
307 rushing yards
Intangible: 2007 Super Bowl MVP
OK so a few factors are a wash -- both were No. 1 picks and both have passer ratings around 80.
Vick comes out on top for Pro Bowls and rushing stats while Eli easily wins passing yards, passing TDs, completion percentage and his Super Bowl MVP is a far more impressive intangible than Vick's NFL rushing average dominance.
Eli's passing stats are somewhat skewed. Even though he has played just six more games than Vick, the Eagles QB spent 12 games last season playing mostly in the wildcat so he had very few passing attempts (13) -- basically losing a season worth of stats.
Taking it all into consideration it would seem that Eli has the edge over Vick -- especially since he has already led a team to a Super Bowl victory. But, this is the NFL -- the league of right now. So to answer whom you would want with one game on the line, you would need to look at what each QB has done for his team lately.
Eli leads the NFL with 19 passing TDs while throwing for 2,448 yards in the Giants first nine games. He has a very respectable 92.1 passer rating but has a glaring stat -- 13 interceptions in his 319 passing attempts (4.1 percent).
Vick leads the NFL with a 115.1 passer rating and 14.1 yards per catch. He has thrown 11 TDs while throwing for 1,350 yards in parts of six games. His most impressive stat though, is his zero interceptions in 153 passing attempts.
Taking the three games Vick missed into account you would have to give him the edge over Eli for this Sunday night. But if my life were on the line would I make the same choice?
The answer is simple -- YES!
What do you think?