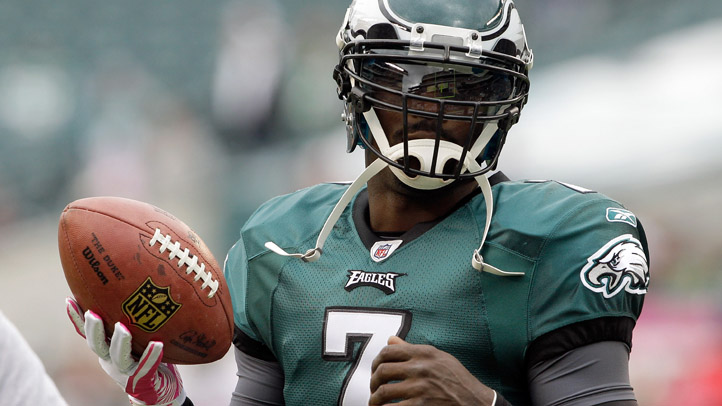 Michael Vick earned a reprieve Wednesday, the equivalent of a five-day contract that he would remain the Eagles' starter. But if Philadelphia loses in convincing fashion to New Orleans on Monday night, or if Vick has a turnover-filled evening of poor decision-making, Week 10 could mark the beginning of the end of his tenure in Philly, some 15 months after signing a $100 million contract.

But much like defensive coordinator Juan Castillo was the scapegoat two weeks ago (the defense wasn't the primary reason for the team's 3-3 start), benching Vick won't save the Eagles' season or Andy Reid's job. Yes, Vick had 13 turnovers (8 interceptions, 5 fumbles) through the first six weeks, but he had a clean sheet in Sunday's loss to the Falcons. In fact, since Week 4, Vick is completing 62 percent of his passes with 6 TDs, 2 INTs and 2 fumbles.

Those aren't Hall of Fame numbers but they're also not the reason the Eagles were 1-3 during that stretch, either. Which is why the calls for rookie Nick Foles are misguided, at least at this point in the proceedings. As NBCPhiladelphia.com's Brian Solomon pointed out, benching Vick for Foles won't magically fix everything

"But if preseason results were everything, Philip Hunt would be leading the NFL in sacks right now," Solomon wrote Wednesday. "I went back and pulled the preseason numbers for the five rookie quarterbacks who have started for their teams this year. As a group, they did fairly well: completed 58 percent of their passes at 6.8 yards per attempt, throwing TDs 3.8 percent and INTs 1.7 percent of the time. Most of the numbers are middling, but the interception percentage is especially good. For reference, that's about where Vick was in 2010."

Put another way: Foles is the "break in case of emergency" last resort for Reid. Team president Jeffrey Lurie made it clear in August that last year's 8-8 record was "unacceptable." Giving the job to Foles would be akin to Reid throwing up his hands with that "I'm officially out of ideas" look on his face, resigned to the fact that he'll be looking for work come January.

Like it or not, Vick gives the Eagles the best chance to win. And let's not confuse him for A.J. Feeley or Jeff Garcia. Vick isn't in the same conversation as Tom Brady, Eli Manning or Drew Brees, but he's not Tim Tebow, either.
More proof: FootballOutsiders.com, borrowing a page from their baseball brethren, fired up their egghead machine to see which players over the last 30 years were most similar to Vick from 2010-12. The top result: Donovan McNabb, 2006-08. Basically, Reid ended up replacing McNabb with, well, McNabb.

The rest of the list:

Archie Manning, 1978-80
Jim Kelly, 1991-93
Joe Montana, 1988-90
Joe Theismann, 1982-84
Steve McNair, 2000-02
Mark Brunell, 1998-00
Steve Beuerlein, 1998-00
Kerry Collins, 2003-05
John Elway, 1989-91

FO.com's Vince Verhei concedes that there are limitations to the similarity scores but his point remains:

"The most intriguing name on that list might be Donovan McNabb, who falls somewhere between mediocrity and Hall of Fame candidate on the quarterback scale. It's quite a coincidence that the most similar player to Vick over the past three years is actually the man he replaced in Philadelphia. That probably shows the influence Reid had over McNabb, and has over Vick. Essentially, Vick has become McNabb with a little more rushing ability, but also with more sacks and turnovers."

McNabb, by the way, led the Eagles to four consecutive division championships, five NFC title games and a Super Bowl. The difference: he had some really defense's to fall back on.