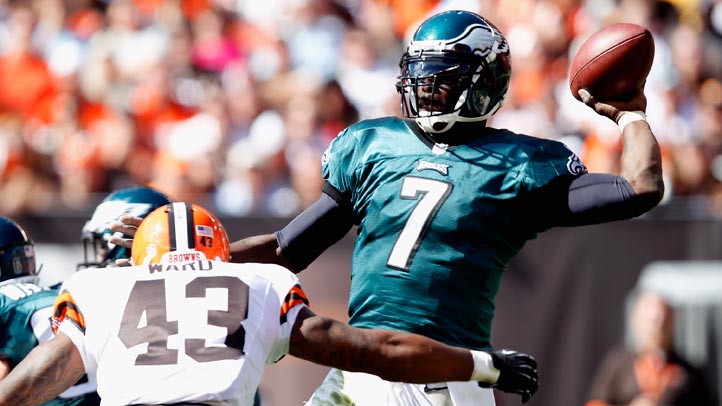 The good news: the Eagles are tied for first in the NFC East. The bad news: they barely beat a hapless Browns team and quarterback Michael Vick looked absolutely dreadful for the first 58 minutes of Sunday's 17-16 win. And, with the Ravens coming to the Linc this week, things are about to get serious.
Baltimore dismantled Cincinnati in on Monday night; their offense was clinical and their defense, even without 2011 player of the year Terrell Suggs, harassed Bengals QB Andy Dalton for most of the evening. After what transpired in Cleveland, it's hard to envision a situation where the Eagles could have much success in their home opener. Not because they don't have playmakers -- they do: Vick, DeSean Jackson and LeSean McCoy (with something in the neighborhood of $200 million tied up in them) among others. But because since the preseason Vick has been one of two things: injured or not very good.
On Monday, coach Andy Reid said that the offense's struggles weren't solely on the quarterback.
"it's a combination of things," Reid noted. "It starts with the plays that are dialed up. It starts with protection and then it comes back to decision making. All three of those things fit into what took place … It's always going to fall on the quarterback's shoulders and we have one that takes that responsibility and he takes it to heart.
"But in reality when you put on the tape everybody's got to do their job. You play an aggressive defense that's good against the pass, particularly last year, then you have to come and you've got to be ready to roll every snap and you've got to be aggressive every snap. We have to do a better job with that."
That's an understatement. Because if the Eagles do the same job -- or god forbid, worse -- they might lose by four touchdowns to the Ravens. That brings us back to Vick.
He made it through the Browns game unscathed, which is good news. Unfortunately, that may have more to do with his new Kevlar flak jacket and luck than any modifications in his playing style. Put differently: despite all the promises from Reid, offensive coordinator Marty Mornhinweg, Vick and even his teammates, nothing's changed. Which means that injuries are a "when not if" proposition.
CSNPhilly.com's Ray Didinger broke it down like this: "In simple terms, the offensive line has to protect him better, the coaches have to protect him better with their play-calling -- the pass-to-run ratio is already scary -- and Vick has to protect himself by making better decisions with the football."
NFL Network analyst Brian Baldinger, who also does Eagles' preseason games, pointed to the final play of the first quarter Sunday as a microcosm of what ails this offense. Three Browns' pass rushers beat their man, converged on Vick with one wrapping up his legs. Instead of going down, Vick -- as he's done his entire career -- tried to make a play. He ended up throwing an incompletion while taking a big hit.

"This is why Mike is hurt all the time, it's plays like this," Baldinger told Didinger. "Look, his leg is caught, his arm is back, he is totally exposed, but he insists on throwing the ball. He gets hit by three guys. He could've hurt his knee, his shoulder, his arm, his chest. He's just hanging there. You never see Peyton Manning or Drew Brees take a hit like this."
This isn't news, of course. But it's something that needs to be remedied because if the status quo continues the Eagles will be staring another 8-8 season in the face. Or worse.
That said, it's important not to overreact. The season is seven days old. Teams that looked good last Sunday will be in the Matt Barkley sweepstakes by December. The Eagles have the weapons to hang 30 points on anybody but right now, from the perspective of mid-September, a lot has to change for that to happen.