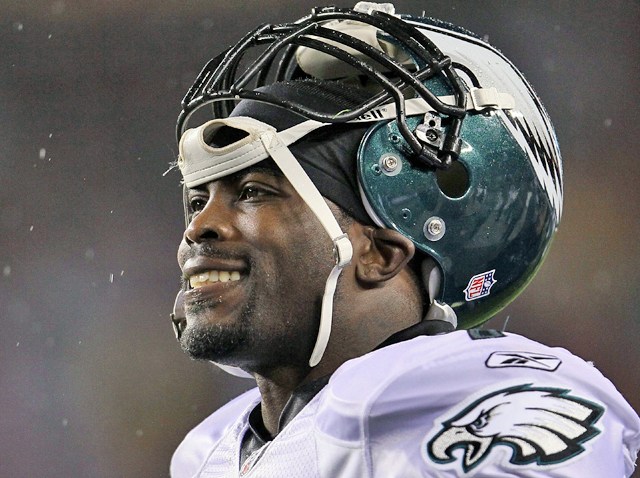 The Eagles used a record setting 28-point first quarter to quickly put away a 59-28 win over the Redskins.
All the hype created after former Eagles QB Donovan McNabb inked a five-year, $78-million* contract extension quickly took a back seat as current Eagles QB Michael Vick led his team up and down the field.
On the first place from scrimmage Vick connected with DeSean Jackson for an 88-yard passing TD. Less than five minutes later Vick ran in a seven-yard TD and about five minutes after that he connected with LeSean McCoy on an 11-yard TD.
10 minutes, Eagles up 21-0.
The 6-3 Birds weren't done. Jerome Harrison would ramble for a 50-yard score (on his way to 109-yard night) to make 28-0 at the end of the first.
Vick was the catalyst, as he didn't let a little rain in D.C. slow him down. He put up 413 yards of total offense (333 passing and 80 rushing) and an amazing six TDs (four passing and two rushing).
Vick was the first QB in NFL history to ever put up 300-plus yards passing, 50-plus yards rushing while scoring four TDs throw the air and two TDs on the ground.
But, possibly most impressively, Vick completed 20 of 28 passes while allowing no turnovers.
His counterpart wasn't as lucky.
McNabb, who was elated after winning McNabb Bowl I, must have felt deflated after tossing three interceptions to two touchdown passes.
No. 5's last pick was returned by Eagles DB Dimitri Patterson for a 40-yard TD that capped the Eagles scoring at 59 -- just five points short of the franchise record 64 points set in 1934.
The Eagles did however set a franchise record with 592 yards of total offense.
The Eagles now come home to host the co-NFC-East-leading Giants on NBC's Sunday Night Football.