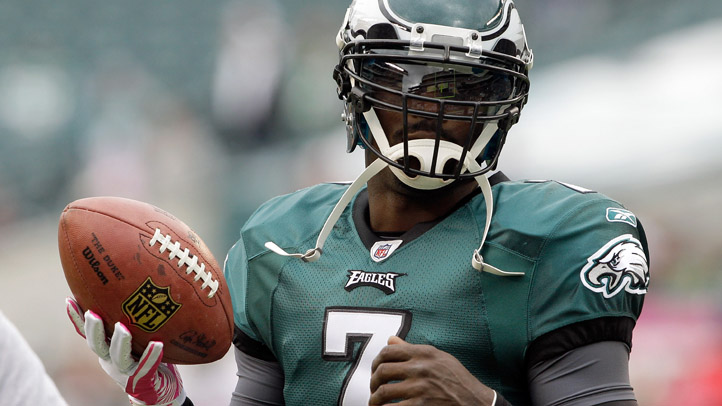 Because it's the preseason -- and just one game into the preseason -- there's no real reason to panic. Yes, the Eagles' first-team offense looked pedestrian against the Steelers last Thursday, but that's what this time of year is all about: shaking off the rust, getting everybody on the same page and (to round out the cliche trifecta) looking for those diamonds in the rough that can help the team once the games count.
So so, the game against Pittsburgh provided few positives for the first-team offense, but Philly gets another chance Monday night when they travel to New England to face the Patriots. And the general plan will be pretty simple: Get better.

"I'd like to not go three-and-out every single series," center Jason Kelce said according to the Philadelphia Inquirer's Les Bowen. "I think what we want to see from an offensive standpoint is consistency. That's really what you're striving for all the time on offense, is consistently doing your job. If the defense beats us a couple plays . . . even if we don't score a touchdown, as long as we're being consistent, making the right reads, doing everything that the offense entails, I think that's what we strive for."
Certainly seems reasonable. Against the Steelers, the Eagles' first three series went like this: two three-and-outs followed by an eight-play drive that ended in a Mike Kafka interception.
"Even if the defense is in a good defense for a particular play and we don't get as much as we want on it, we still want to make the right decisions," Kelce added. "Let's say we're running an outside zone to the right; as long as we block everybody right, maybe they bring the safety down and we only get 2 or 3 yards on it. At the end of the day, we're not going to sweat that so much. We just need to make sure we're [controlling what we can control]."
It's always nice to win, even in preseason, but any coach or player will tell you that flawless execution this time of year is infinitely more important than a victory.
(Which reminds us of those halcyon Steve Spurrier days with the Redskins... During the ol' ball coach's first year in Washington he got his starters a lot of work during preseason games -- we're talking regularly leaving them in well into the second half. The results: they averaged 37 points a game and more than 400 yards offense, including, as the Washington Post noted, "seven second-half touchdowns against the Steelers and [a] flea-flickers and double-reverses late in the game against the Bucs." So how did that 4-1 preseason record translate into the regular season? Seven wins. The lesson: running up the score against a bunch of fourth-teamers who have no shot of making an NFL roster may be great for short-term confidence but means very little for long-term competitiveness. Consistency, it terns out, is much more important.)

"We want to be as precise as we can be," quarterback Michael Vick said Thursday. "Just get a feel for where we're at, most importantly. This'll be a good test, playing against a good defense. They played in the Super Bowl last year. It's an opportunity to see where we stand and how we hold up. We're certainly going to go out there and try to put some points on the board."

And if the Eagles can execute their assignments while scoring said points even better, which are sentiments echoed by tight end Brent Celek: "The big thing is, we need to show that we can drive the ball, score and be consistent. That's key . . . This is our big test."