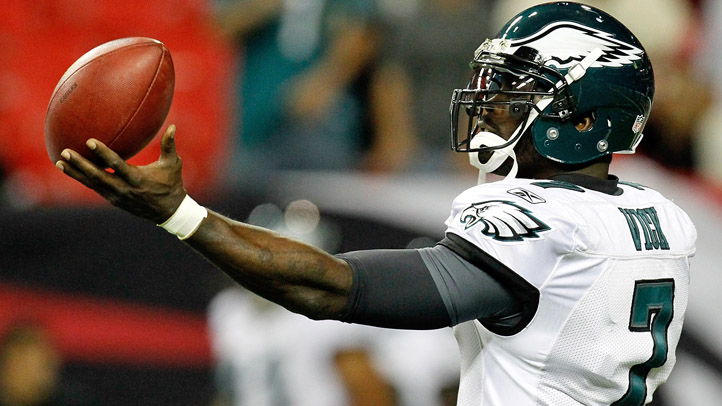 It's possible that Michael Vick could be under center when the Eagles take on the division-rival Giants Sunday at the Linc.
The Eagles QB was knocked out of Sunday night's 35-31 loss to the Falcons with a mild concussion.
Because he was reportedly groggy postgame and due to the extensive NFL head injury rules, it appeared Vick's status for the home opener was in great jeopardy.
But it might actually be closer to a certainty.
"I'm told that M.Vick was symptom free Tuesday. Has more tests. Looks like earliest can practice is Friday. But Vick already watching film," tweeted Football Night in Philly's Howard Eskin Wednesday morning.
Vick might be looking at tape but he was one of the Birds (including DEs Juqua Parker and Darryl Tapp) who sat out practice Wednesday.
Coach Andy Reid didn't put a timetable on Vick's return when he addressed the media Wednesday night.
"Michael felt good enough to do the walkthrough this morning, so that's a positive step, and then from there we're going to get all three of them ready to go, as long as Michael continues through his process, they'll all have a chance to get themselves ready for this game."
And even though Vick was listed as having not practiced he did take some snaps during the morning walkthrough so that is another sign pointing towards his quick recovery.
Vick still needs to meet with an independent neurologist, which could happen Thursday.
So Vick could play but what could keep him off the field? Eagles trainer Rick Burkholder explained some of the hurdles:
"We look at those things that I outlined, so if his impact test, which he took yesterday and is very, very close to what his baseline is, just doesn't get back, or he develops symptoms, you know, just because he doesn't have symptoms today doesn't mean he doesn't wake up without symptoms tomorrow. That's the process throughout the league and it's the process with anybody. I don't anticipate that, but that could happen."
The Eagles reportedly expect Vick to play, a team source told ESPN.