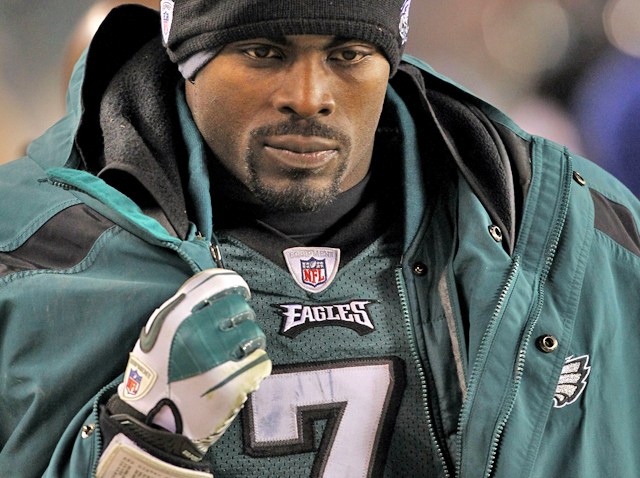 QB Michael Vick put on another show with his arm and his feet as his Eagles beat out the Texans 34-24 on Thursday Night Football.
Vick, working on just three days rest, (yes that was baseball reference) threw for 302 yards on 22-for-33 passing and two TDs. Despite tossing his second interception in as many weeks and having at least two would-be TD passes dropped, Vick still posted an impressive 103.3 passer rating.
The Eagles weapon used his feet as well -- adding 48 yards rushing and a TD on 10 attempts.
Of course with those rushes came a good amount of hits. Add those to the four QB hits and one sack Vick took and the Eagles QB certainly will be sore Friday morning.
Other impressive performances for the Eagles included Shady McCoy who rushed 12 times for 44 yards and a score and added a team-high eight grabs for 86 yards and another score. Also Brent Celek despite a dropped TD still was impressive while catching four balls for 55 yards including a monster 19-yard grab on 3rd-and-18 -- the play was overturned on a successful Andy Reid challenge -- that led to Vick's clinching TD toss to Owen Schmitt.
Reid summed up Celek's performance. "He was pretty upset about the drop at the end of the first half then came back to make one of the biggest plays of the game."
And props to DT Trevor Laws who picked off Texans QB Matt Schaub -- Laws' first-career INT -- and "rumbled" towards the end zone until losing the ball. The humor of a big man trying to go to the house was worth the price of admission alone.
After giving up two unanswered Houston TDs in the third quarter, Vick led the Eagles to two fourth-quarter scoring drives that put the Birds up for good.
"We did a great job battling back," Vick said.
Of course all wasn't peachy.
The Eagles lost T Winston Justice to an MCL strain and would need an MRI in the morning to see how serious it is, Reid said.
The Birds twice settled for field goals instead of touchdowns in the red zone on the offensive side and on the defensive side the Eagles allowed TDs on all three Texans trips to the red zone.
Talking about the defense, they allowed Schaub to go for 337 yards and two TDs including six passes for 149 yards to Andre Johnson. They also allowed the Texans (5-7) to take a third quarter lead after two TDs. But the Birds D also forced two huge turnovers and managed to keep Arian Foster -- the NFL's leading rusher -- to less than 100 -- yards.
The one other area where the Eagles desperately struggled was with penalties. A holding penalty brought back Jorrick Calvin's 102-yard opening kickoff return TD and various other penalties bailed out the Texans various times. In total the Birds were flagged an unacceptable 11 times for 85 yards compared to just four penalties for 25 yards for Houston.
Despite the mistake the Eagles still covered the 8-point spread.
The 8-4 Birds now get off 10 days until the roll into Big D next Sunday for a showdown with the lowly Cowboys.