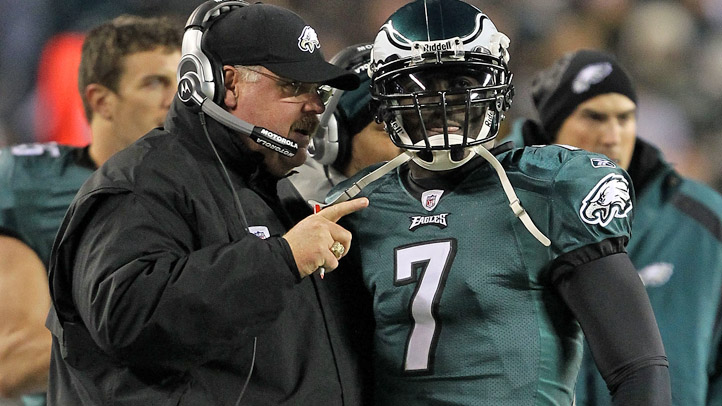 So this is it, this is how Michael Vick's career with the Eagles will likely end: with one last start in a meaningless game for just about everybody except, well, Michael Vick. After suffering a concussion against the Cowboys in Week 10, the Eagles' franchise quarterback heading into his season took the next few weeks to recover only to find himself benched for rookie Nick Foles.

Some of that was because Vick, who had signed a $100 million contract before the 2011 season, was struggling (just like everybody else on the roster). But it also had something to do with the sorry state of affairs for the Eagles. They were 3-6 when Vick was injured and in the middle of what would become a nine-game losing streak. In light of owner Jeffrey Lurie's August comments that last season's 8-8 record was "unacceptable," it was clear that coach Andy Reid's tenure in Philly would come to an abrupt end in late December if not sooner.

The organization was in turmoil. Not uncommon given the circumstances but certainly not something we're accustomed to in the Reid era.

But for one more week -- one last week, perhaps -- Vick is back under center. And if the next Eagles coach doesn't have any use for Vick's unique talents, Sunday's game against the Giants will be his last and best opportunity to show that he's a legit NFL starter even if his skill set doesn't fit into the traditional mold of what that means. (If nothing else, Robert Griffin III's emergence could mean more read-option football in the NFL's future, which is good news for Vick.)

"It feels good that I have a chance to play quarterback this last game," Vick said via the Philadelphia Daily News' Les Bowen. "Whether it's coach's last game or my last game, whoever's last game it is, it's the last game of the season [for the Eagles] and we want to win it."

If Vick truly is headed out the door with Reid in a week's time, the question then becomes: is Nick Foles the long-term answer?

Foles, who was placed on injured reserve Wednesday after breaking his hand in the Week 16 loss to the Redskins, has shown glimpses of what it means to be an NFL quarterback. The issues, as is often the case with rookies, is consistency.
"I think he's a winning quarterback," Reid said Monday, "or he's a quarterback that gives your team an opportunity to win. I think you're seeing him in a unique situation where he comes in later in the season. You look at the young quarterbacks who've had an opportunity to come up through and they've had time here to grow."

"It wasn't really pretty when they first began and it continued to pick up as they got games under their belts," Reid continued. "Nick got thrown in when other teams were working to their peaks. He was thrown in in that situation. He has enough skill and ability to play."

We'll find out in the coming weeks and months if the Eagles front office -- and Reid's successor -- agrees.