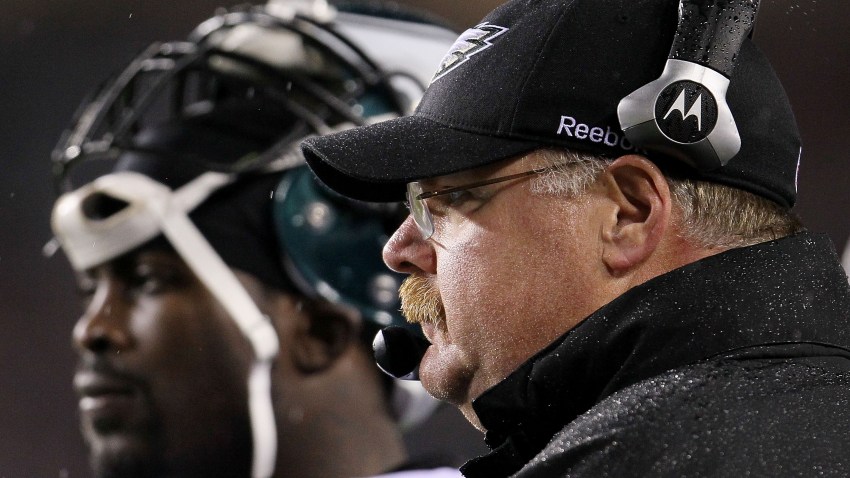 On Sunday, Andy Reid will go out and coach his last game with the Eagles. His 243rd game as head coach in Philadelphia, 14 seasons of ups and downs. And I'm so glad that Michael Vick will be quarterbacking that final game.
I know it doesn't really matter. Getting another chance to see Nick Foles is probably a better use of our time. But Vick's story will always be so closely tied to Reid for me. Sure, Donovan McNabb was the long-running franchise icon who Reid groomed and partnered with for the best years. And Kevin Kolb was supposed to be second in line after that. But Vick disrupted that natural progression — leading to one of the highest points in Reid's tenure and, ironically, his lowest.
If there was one thing you could say about Reid (beside fat jokes and run-pass ratio gripes), it was that the coach was a quarterback whisperer. McNabb and Kolb both crumpled after they departed Philly. Guys like AJ Feeley and Jeff Garcia had no business being successful, but Reid made them so. Yet nothing cemented Reid's reputation more than salvaging Vick's career.
Truthfully, I think even Reid believed Vick was beyond saving. He did provide refuge after Vick spent two years in jail. But it always seemed like an investment more than a true rebuilding project. With the backing of Tony Dungy and Roger Goodell, Reid saw a beaten down player with immense talent who he could buy cheaply and sell later on, while being a fun toy to play with in the meantime. He never intended to start Vick. The 2010 offseason was filled with nearly as many Vick trade rumors as there were for McNabb.
If not for a twist of fate (or Kolb's neck), Vick never would have started in Philadelphia. But not only did he start, he experienced a resurrection. Vick was always a dynamic fan-favorite, but suddenly he was commanding one of the most explosive offenses in the NFL. The player who had never been a complete player was running, passing, and executing Reid's offense better than McNabb ever did. That 2010 team didn't win a playoff game, but there were eternal memories nonetheless. Remember the opening play bomb to DeSean Jackson that kicked off a 59-point score against the Redskins? Remember the Miracle at the New Meadowlands?
Although we didn't know it at the time, these victories were the last hurrah for both Reid and Vick in Philadelphia. The last two years devolved as both Reid and Vick fell from their lofty 2010 peak. What had seemed to be the master stroke of Reid's career turned out to be a fleeting mirage of success. He made terrible coaching and personnel decisions. Vick couldn't replicate the efficiency he had demonstrated for the first time at age 30.
With the end of their careers in Philly inexorably entwined, it is fitting that Vick and Reid should go out together. And while I still hope for the best draft pick losing can buy, it will be hard for me not to root for them on the way out.