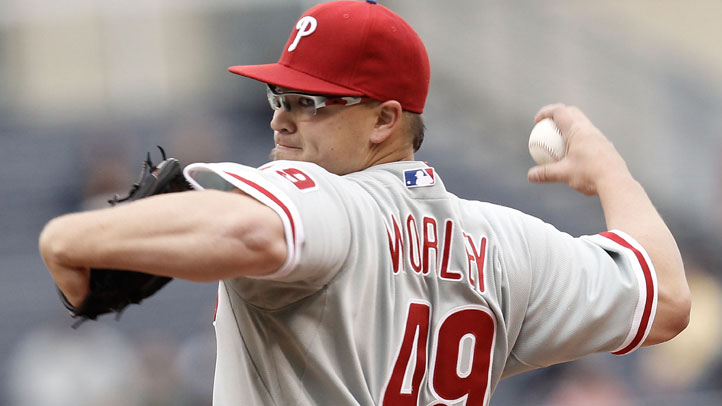 It's good news-bad news time for Vance Worley. The bad news is that Worley does, in fact, have a bone chip in his elbow, as we've previously mentioned.
The good news is much, um, more good, though, as Worley was told by Dr. James Andrew (or Dr. Disabled, as he's known in my fantasy baseball league) that he won't need Tommy John surgery
"Immediately after he grabbed my arm he knew it wasn't Tommy John," Worley said, per David Murphy of the Philadelphia Inquirer. "Now I just have to go out and get it going."
Last week, Worley was yanked from the rotation because of elbow soreness, which later evolved into an actual elbow injury and landed him on the disabled list.
Then on Monday we learned that the Vanimal was dealing with a bone chip in his elbow, which made the prognostication for the rest of his season cloudy at best.
His trip to Dr. Andrews means things are a little clearer: he can return to pitch this season, but it's not going to be much fun, what with that chip floating around in his elbow and all.
"It doesn't feel good, but I can do it," Worley said.
As Murphy points out, this is similar to what Cole Hamels dealt with last season, and it ultimately resulted in offseason surgery. Worley likely faces a similar fate once 2012 wraps up (whether that's literally or mathematically).
For now? Worley will continue to rehab and hope the elbow responds well to the only treatment he can really give it: rest.
The other bonus here: the recovery time for Worley hopefully won't be the same as with TJ surgery. Just look at what Hamels (offseason surgery) is doing this season and compare that to the recovery from TJ that other pitchers (Adam Wainwright anyone?) are going through.
So Worley and the Phillies should consider themselves lucky.