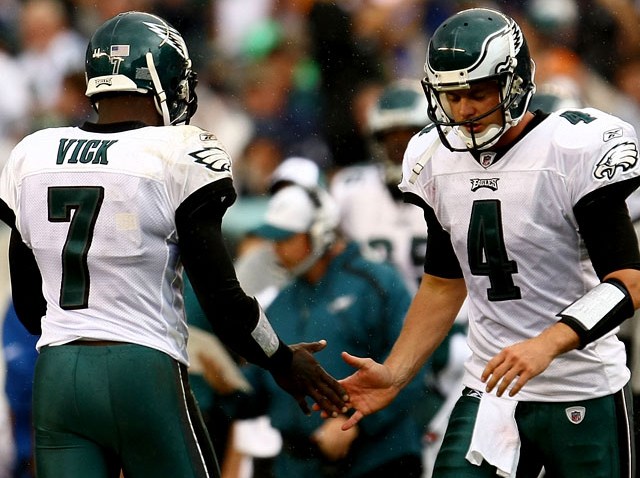 There are rumblings that the move to start Michael Vick over Kevin Kolb came from the very top, as in Jeff Lurie.

Don't believe it.

That isn't the nature of Lurie's relationship with Andy Reid. True, he's the owner and certainly has the prerogative to do that. But Lurie isn't that kind of owner. He's very deferential towards Reid. If you don't believe that, just think back to the circumstances that brought Vick here in the first place. Reid called the owner and told him that he was considering signing Vick and asked Lurie to think about it. Lurie could have very well nixed it, as 30 other NFL owners may have done. But Lurie thought it over long and hard and allowed team president Joe Banner and Reid to pull the trigger.

Here are factors, I believe, that worked in Vick's favor and conspired against Kevin Kolb.

Kolb was sacked three times in his nearly 30 minutes of playing time, the last of those, gave him the concussion that opened the door for Vick. In Sunday's game, Vick was sacked six times and three more times the previous week in relief of Kolb. That's nine times in six quarters of play. Drew Brees was sacked NINE times last year while leading the Saints to the Super Bowl!

Vick may have been sacked a dozen times already if not for his own elusiveness and athleticism. Clearly, Kolb doesn't have Vick's Houdini-like ability to disappear from the grasp of defenders. Reid hasn't given up on Kolb but it's obvious to him and his staff that there is no way they can accurately assess his abilities if he's on the run and under constant duress. So, they've simply suspended the Kevin Kolb experiment. They know they're in unchartered waters, but with a porous offensive line that lost starting center Jamal Jackson in week one, left tackle Jason Peters missed stretches Sunday with injuries and Todd Herremans is coming off a fractured foot, protecting Kolb and his $12 million dollar salary was in serious jeopardy.

Another factor that worked against Kolb was the schedule. Looming on the horizon in two Sundays are Donovan McNabb and the Washington Redskins.

Reid, Lurie, Banner and GM Howie Roseman cannot afford to lose that game. So, while they're typically impervious to public pressure, indeed, the Eagles' brass does not want to deal or face the enormous outcry and second guessing that will come if they lose to McNabb and the Skins on October 3rd.

Finally, despite what the Eagles' say - there are concerns, albeit limited, but nonetheless concerns about Kolb's courage and ability to "stare down the barrel" as coaches' like to say, when he's being pummelled. Though the offensive line has been horrible, to their credit, they did create a pocket for Kolb on the play against Green Bay when he was flushed out and taken down by Packer LB Clay Matthews. Instead of stepping into the pocket for protection on that play, Kolb got skittish and abandoned his protection leading to his concussion.

Rather than risk losing Kolb physically, emotionally and mentally, the Eagles decided Michael Vick gives them their best option right now. Beyond that, Vick is also responding to playing in a structured environment, offense and with weapons, amenities he never had in Atlanta.

I also don't think that the state of the division, what with Dallas 0-2, upheaval in New York with Brandon Jacobs and DeAngelo Hall feuding with D-coordinator Jim Haslett - none of that had anything to do with the QB Switch. Andy Reid knows its still early in the season and he's always been confident in his team's ability to be in the race. In 1992, Dallas opened the season 0-2 and won the Super Bowl. More recently, in 2003 the Eagles opened 0-2, losing badly to Tampa Bay and New England but won 12 of their final 14 games to return to the NFC Championship. Nothing is set in stone in week two.

Frankly, I'm happy for Michael Vick. Whatever your personal feelings about him, and I'm a long time dog owner, he's served his debt to society and appears to have miraculously regained his old form.

I love a good comeback story.