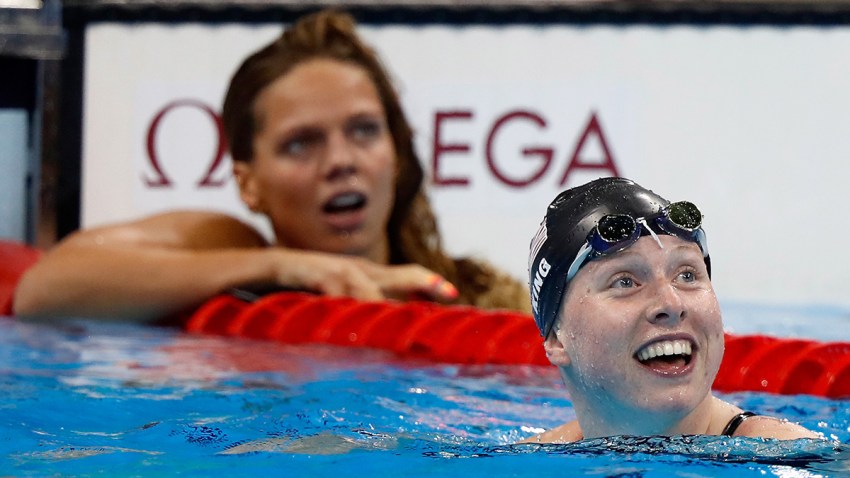 The much-anticipated "Finger Wag Final" Monday night at the Olympic Aquatics Stadium in Rio went to standout U.S. swimmer Lilly King.
King won the gold in the 100m breaststroke, defeating Russian swimmer Yulia Efimova, who has been embroiled in a doping controversy.
It was an especially sweet win for King, who objected when Efimova wagged her finger after winning a semifinal Sunday.
When King saw Efimova's wags on a TV screen while preparing for her own race, she gave a wag back that Dikembe Mutombo would have been proud of.
Then, after winning her own semifinal Sunday a few minutes later and besting Efimova's time in the process, she gave another quick wag of the finger.
That created a lot of buzz for Monday night's race, and King was joyous after winning the gold.
Asked if she thought the win made a statement to Efimova, King said, "I hope I did, that we can still compete clean, and do well at the Olympic Games, and that's how it should be."
[NATL] Day 3: Highlights From the Rio Olympics
On Sunday night, King had said what it all meant to her in an interview with NBC.
"You know, you're shaking your finger No. 1, and you've been caught for drug cheating, I'm just not a fan," King said.
King's call-out of Efimova and her own finger wag drew lots of reaction on social media.
Efimova has had a tumultuous career as of late. She's the reigning world champion, but she's also served a 16-month suspension for doping and tested positive again this year for the now-banned substance meldonium, which also got Russian tennis star Maria Sharapova in hot water.
Efimova was initially part of the list of Russian athletes banned from the Olympics because of the country's doping scandal, but was eventually allowed to race.
She made her first public comments after the race to The Associated Press, saying that the last six months were "crazy" and that she didn't "understand what's going on."
She also told the AP that she's "just happy to be here and I'm ready to race." When the AP pressed her on criticism from rival swimmers and coaches, she smiled and walked away.
International Olympic Committee spokesman Mark Adams weighed in on the issue on Monday, the AP reported.
He said that "people should be free to compete in tranquility and not be addressed by others. We would encourage people to respect their fellow competitors."
As for why Efimova had been booed, Adams called local Brazilian fans "pretty egalitarian."
"They seem to boo athletes from many countries," he said. "It's quite difficult to work out why they might be booing one athlete and not another."