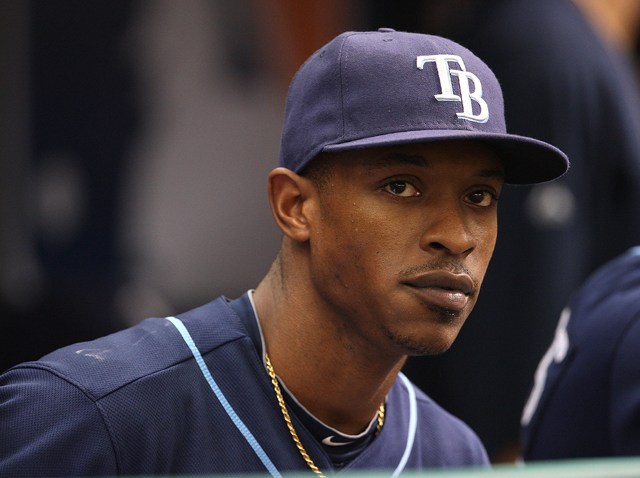 With the exception of the mega-trade two weeks ago between the Toronto Blue Jays and Miami Marlins, it's been a relatively quiet off-season in baseball, especially for the Phillies. But that very well could change this week, as one of their free agent targets, B.J. Upton, is expected to sign with his new team, according to Marc Topkin from the Tampa Bay Times:
Upton is looking to make a decision this week, with both the Braves ...and Phillies considering him their top choice.


First, the good news: If the Phillies are the team that lands him, it fills a few voids. First, it gives them a centerfielder who plays exceptional defense. His good glove skills, range, and above-average arm figure to make him the best fielding center-fielder in Philly since the days of Lenny Dykstra.
Second, it gives them an offensive threat and right-handed hitter. Since he became a full-time player in 2007, Upton has averaged 19 homers, 32 doubles and 18 triples per season. While he does have his pitfalls (.338 OBP since 2007), he's fast (at least 30 stolen bases every season since 2008), and he has enough pop to make for a solid addition to the offense.
Third, he's young. One of the biggest flaws of the 2012 was their age, as Ryan Howard, Chase Utley, Jimmy Rollins and Carlos Ruiz are all over 30-years-old. It's not a great position to be in. Upton, despite being a full time player since 2007, will be all of 28 years old, meaning he will just be coming into this prime.
In other words, Upton is a very talented player who will really be an asset to the club.
But, there is bad news. Namely, because general manager Ruben Amaro Jr. is the one doing the signing. In fairness, I like Ruben. I don't think he's a great GM, and he's made some bone-headed moves (trading Cliff Lee to Seattle, giving up the farm for Hunter Pence), but for better or worse, he's a man who is not afraid to get things done.
But sometimes, that can backfire. Like when he jumped the gun last year and signed Jonathan Papelbon at the start of free agency, thus establishing the market for relievers. And if there is one thing that you don't want to do, it's be the guy who signs the first big free-agent. Unless, of course, you can steal him from everyone else.
See, if Upton signs with the Phillies this week, odds are it won't be a value-contract. It will be for five or six years, and potentially upwards of $100 million. That won't be a horrible deal, but by signing him first, you potentially lose the benefit of allowing the market to establish itself, and thus, allowing you to sign a player for less money.

For instance, if Josh Hamilton -- who is widely considered to be the best free agent position player on the market -- signs for an amount significantly less than what he sought or what many think he is worth, then it drives down the value of every player below him. It's a ripple effect that benefits every other team that is looking to sign an outfielder.
But it's also a two-way street. If an outfielder like Angel Pagan -- who is a good, but not a top-tier outfielder -- signs for more money than most think he's worth, then it will drive up the price of other outfielders, making the market worse for buyers.
On one hand, Upton would be a great addition to the team, but on the other hand, Amaro could misplay this dramatically and overpay him. To be honest, I'd like to see Upton wearing red pinstripes next year, so I eagerly await the news that he'll sign with Philly, even if it is for too much. After all, it's not my money.