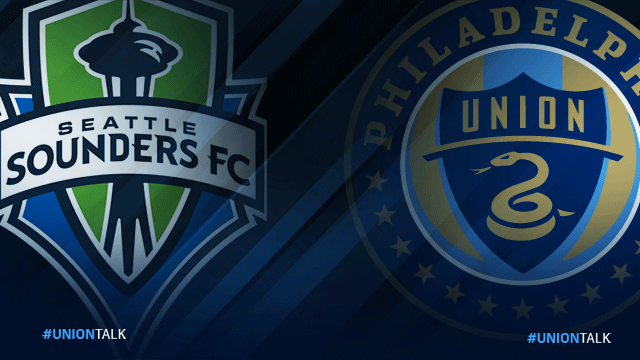 Seattle Sounders (12-8-11) at Union (9-13-9)
1 p.m. on ESPN
CHESTER, Pa. - With three games left in the season, the Union are on the verge of being eliminated from playoff contention.
But that won't stop them from wanting to put on a good show for the home fans against Clint Dempsey and the reigning champs.
Here are some thoughts on the Union's penultimate game at Talen Energy Stadium:
• The Union are coming off a 3-0 midweek loss in Atlanta, which dropped their road record to a dismal 1-9-6. But the team has been pretty good at home this season, sporting an 8-4-3 mark. If they can beat Seattle or Orlando in their home finale, they'd set a club record for most home wins in a season.
• Another record that could be set: the individual single-season scoring record. CJ Sapong is currently tied with Sebastien Le Toux for the most goals all-time with 14.
• The Union enter the weekend in ninth place in the Eastern Conference and could be eliminated from the playoff race before their kickoff if the New York Red Bulls beat Toronto on Saturday. If not, a loss or draw to Seattle would officially knock them out.
"We haven't been mathematically eliminated yet but we are realistic in where we are in the table," Curtin said. "All we can do is try to win our last three games and see what happens from there. Guys are playing for pride, they're playing for our home fans, they're playing to break a record, as small as it sounds, for most home wins. Little things like that can motivate guys."
• The Sounders, winners of the 2016 MLS Cup, are fresh off a big 3-0 win over West-leading Vancouver and can clinch a playoff spot this weekend. Curtin said he isn't sure if Seattle coach Brian Schmetzer will rest any players with the quick turnaround and cross-country flight but he said they're preparing for "their best lineup."
• While Jordan Morris, one of the best young American players, is out with a hamstring injury, the Union will likely see Dempsey, one of the best American players ever. Curtin said it's a big deal any time a player of his stature comes to town, and he's wary of the challenge Dempsey presents.
"He's a guy they played as a No. 9 in their last game, which was something a little different," the Union coach said. "But he still has the freedom to go all over the place. He's not just gonna stand between the two center backs. So our challenge with Clint is his unpredictability - he pops out right, out left, he comes deep for the ball. So we'll have our hands full.
"He's a special player and they have some other special players around them in [Nicolas] Lodeiro and a core of good experienced defenders."
• Dempsey and Union captain Alejandro Bedoya will likely join forces after the game for two massive U.S. national team games vs. Panama on Oct. 6 and Trinidad and Tobago on Oct. 10, with a trip to next summer's World Cup on the line. The Union won't have any games during the international break, next playing at Chicago on Oct. 15.
"You always want to have a good performance, to have a good taste in your mouth when going into a long break," Curtin said.
• Although he's been reluctant to play some of his more untested youngsters, even as the team has fallen out of the playoff race, Curtin said midfielders Derrick Jones and Adam Najem will be "in the discussion for this weekend, for sure" thanks to strong recent performances with USL affiliate Bethlehem Steel FC.
"It is likely they'll be rewarded," the Union coach said. "Maybe it's being in the 18 and hopefully they can work their way into the starting lineup by the end of the year."
• Two starters in Wednesday's match vs. Atlanta are questionable after picking up injuries in the game: defensive midfielder Warren Creavalle (hamstring) and right back Keegan Rosenberry (ankle).
• The Union have an interesting history with Seattle, facing them in their first-ever game in 2010 (a loss in Seattle) and their first-ever game at Talen Energy Stadium a few months later (a win). They also met them in the 2014 U.S. Open Cup championship match - a thrilling game that ended in a heartbreaking extra-time loss for Philly with Dempsey netting the winning goal.
• Aside from the Open Cup loss, the Union are undefeated at home against Seattle, going 2-0-2 against them in league play at Talen Energy Stadium.
Copyright CSNPhily