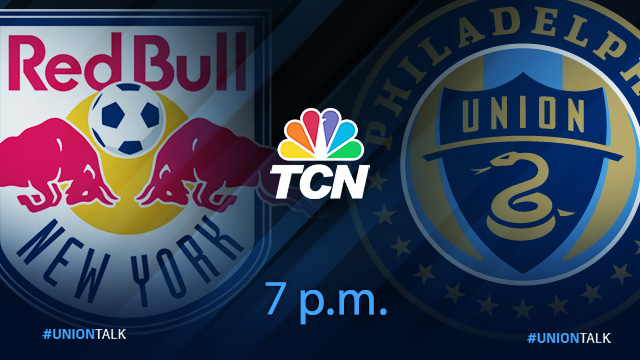 Red Bulls (5-4-1) vs. Union (0-4-4)
7:00 p.m. on TCN
Coming off a fortunate road draw and shutout against the Los Angeles Galaxy, the winless Union will be tested once again Saturday night when they host Bradley Wright-Phillips and the potent New York Red Bulls at Talen Energy Stadium.
Here are five things to know.
1. Building Blocks
For some, last week's scoreless road draw with the Galaxy, who dominated the Union throughout, was a lucky and undeserved result. For the Union, it was a long overdue step in the right direction.
"It was something to build on moving forward to Red Bull," said Union manager Jim Curtin, whose team is coming off back-to-back draws after losing four consecutive games. "It was something positive to build off of, the overall fight and grit from the group to get a clean sheet in a tough environment.
"It's a minor victory to get a draw, but the clean sheet part of it is good."
While it may not have been the prettiest match, the Union did scratch out the shutout. It was the club's first since the opener on March 5, and the first time the Union allowed less than two goals in a game in their last seven attempts.
"We need to build off of that," attacker Chris Pontius said. "We got a clean sheet now we have to turn it into another one. We were a little lackluster offensively in that game, so we need to do a little both now. We need to win the ball in better spots and spur the attack in that way."
But now Curtin needs more from his club if the Union want a chance against the Red Bulls.
"Collectively, we can all do a little more," Curtin said. "Everyone needs to raise their game. We know we have a lot of things we can work on and clean up, we haven't had a full 90-minute performance. It's important we get all of our guys playing at their highest potential."
2. Elliott's Impact
Despite the Union's poor start, one positive has been the emergence of rookie center back Jack Elliott.
"He's played great," said Curtin, who singled out Elliott as an individual who played well against the Galaxy last weekend. "Jack's skillset, just his size and presence. What people don't realize is how good his feet are and his passing. He can start the attack. He does read the game very well and he's two-steps ahead, he has a high soccer IQ, he's an intelligent guy."
That's high praise for the 6-foot-5, 21-year-old, who was drafted in the fourth round of the 2017 MLS SuperDraft. Elliott is set to start his fourth-straight game Saturday, as he has overtaken Oguchi Onyewu as the club's full-time right center back.
"To be honest, the year he's been above and beyond what we anticipated but it's a credit to him and how hard he's worked," Curtin said. "We gave him an opportunity to debut and he's done well. He's a guy who we believe in and who has done a good job in his performance."
The pressure hasn't gotten to Elliott. The quiet youngster is fitting in nicely.
"I'm settling in well," he said. "Learning how everyone plays. It's been good."
But that could change against the Red Bulls. Just a few weeks after guarding New York City FC's David Villa, Elliott will be tasked with defending the always potent Wright-Phillips.
"He'll have a tough task this weekend," Curtin said. "Bradley Wright-Phillips is one of the league's best strikers."
3. Rivalry Expectations
With the Red Bulls and Union on different tracks this season, it would be understandable if the visitors didn't take the Eastern Conference basement dwellers seriously.
But according to Red Bulls coach Jesse Marsch, that won't happen.
"We made it very clear, and our team is not foolish and not naive, but we made it very clear that this game down in Philly is against a desperate team a team that will throw everything at us," the manager siad. "They want to show their fans that they are a good team and that their season is still around to be saved."
With that known, the Red Bulls have a plan. They want to manage the Union's motion and match the expected physical intensity.
"It makes them more dangerous than ever," Marsch said. "A good start will be key, managing the game will be key and being physically up for the game will be key. We're excited."
To keep his team's attention against a winless Union side, Marsch is playing up the rivalry. Although the two clubs have had emotions flair in recent years, the two sides have never met in the postseason and rarely ever play a match that carries more weight than any other MLS regular season game.
"We wanted to put an emphasis on the game in Philly, it's a rivalry game and a team that always gives us a great match," Marsch said. "We know whenever we play Philly they give everything they got and that's what makes rivalry matches so good. We've never had an easy time in Philly, it's always been a battle so we'll be prepared for that again."
4. Keep an eye on
Bradley Wright-Phillips: The striker, who already has four goals in nine starts this season, has five goals and one assist in eight career games against the Union. If the Red Bulls are going to crush the hosts, they'll do it off the foot of Wright-Phillips.
Ray Gaddis: Although it's not a given that Gaddis will even make the start, he's been one of the biggest surprises of the year for the Union. The overlooked right back took over starting duties for Rookie Of the Year nominee Keegan Rosenberry and seems primed to make his third consecutive start Saturday. "Ray has come in and done a good job," Curtin said." He's given us some good defending."
5. This and that
• The Union are currently tied for fourth all-time with the longest regular season winless streak in MLS history with 15. The Colorado Rapids, from July 2014 through April 2015, hold the league record with 18 regular season games without a win.
• The Union are 4-4-2 at home all-time against the Red Bulls.
• There's an illness going around the Union, which claimed Ilsinho last week against the Galaxy and is now attacking Richie Marquez. Both players are questionable for Saturday. Josh Yaro (shoulder) and Maurice Edu (broken leg) remain out.
Copyright CSNPhily