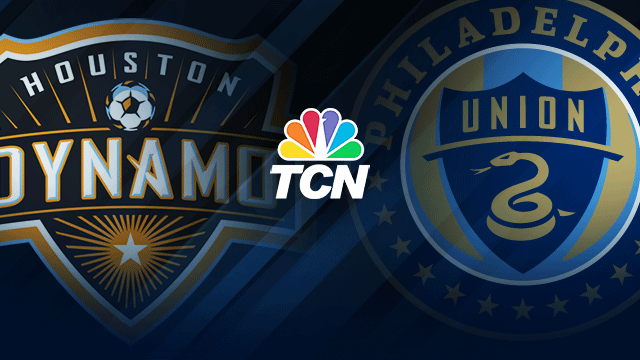 Union vs. Houston Dynamo
7:30 p.m. on TCN
Riding a four-game point streak and coming off back-to-back wins, the scorching Union (2-4-4) set to host potent Cubo Torres and the equally hot Houston Dynamo (6-3-1) in a rare mid-week tilt at Talen Energy Stadium on Wednesday night.
Here are five things to know:
1. Committing to Defense
The Union's dramatic turnaround starts on the defensive side.
After giving up two-plus goals is six-straight games this season, the Union have rattled off three consecutive shutouts, outscoring their competition 7-0 over that span. It's resulted in two wins and a road draw.
"The best defenders in the world can do nothing if there isn't pressure to the ball," Union manager Jim Curtin said. "And that's where we've been better. That makes everyone's job across the back line a lot easier and more predictable. Are we perfect? Absolutely not. But it does give us a chance in all these games."
While the team is scoring goals in droves, the players believe it's a stronger commitment to defending that has the Union winning games. The club has won back-to-back games for the first time since Aug. 24 and Aug. 27, when they defeated the Columbus Crew and Sporting Kansas City.
"I think we're just working a little harder and everyone is committed to defending," Union goalkeeper Andre Blake told reporters. "I think we all get that it's going to take 11 to defend. We all understand that there are no plays off and we've just got to work as hard as we can on the defensive side of things."
Blake, who had a rocky start to the season but is now tied for second in MLS with four shutouts on the season, wasn't tested often, earning the one-save effort last Saturday. And even though it didn't involve much work, the reigning MLS Goalkeeper of the Year will take every clean sheet he can get.
"As a goalkeeper, I can take some of those nights," he said. "If we have 35 games and I get zero shots and all shutouts, then I'll take that. The guys are doing very well and it's making my job easier, so I just need to make sure that whenever something is coming my way that I'm in the right mindset and ready to make a save."
2. Stopping Cubo
The Union's defensive resurgence will be tested on Wednesday. With 21 goals on the season, the Dynamo, led by Torres' league-leading eight goals, are atop the Western Conference in points and currently lead the league in scoring.
"We need to stay consistent and collectively defend from top to bottom, from C.J. Sapong to Andre Blake," said Union defender Ray Gaddis. "We want to be a cohesive unit, do the dirty work and stay together. We know we are facing a good Houston team, we just need to stay together and focus on the task."
That task includes stopping the league's leading scorer. Facing the New York Red Bulls on May 6, the Union were able to stop Sacha Kljestan and Bradley Wright-Phillips. Last Saturday, they completely shut out Luciano Acosta, frustrating the attacking midfielder into taking a red card.
"We've done a good job limiting the opponent's chances," Curtin said. "The biggest thing with that is trying to cut out their key guys. We've done a good job of limiting touches, chances and played some decent soccer along the way as well."
Next up: Torres.
"He's clinical around the goal," Curtin said of Torres, who earned four his eight goals from penalty kicks. "Their wingers are so dangerous, Alex is so dangerous on the dribble, it results in a lot of fouls around the box. I think they had six PKs, five scored, so we have to be smart because they are so dynamic."
3. Dynamo's Road Problem
Leading the Western Conference with 19 points in 10 games may be an impressive feat for the Dynamo. But it doesn't mean they are perfect.
The Dynamo, who have played a large chunk of their home games early this season to avoid mid-summer heat in Houston, are 6-0-1 at home but a paltry 0-3-0 on the road.
"This is a test for us," Dynamo fullback DaMarcus Beasley said. "We don't try to look too much in the future but eight of our next 11 are away from home."
The goal for the Dynamo over that span, beginning on Wednesday, is transferring their impressive home play to the road. According to Beasley, that hasn't been an easy process, leaving the club still trying to find themselves away from BBVA Compass Stadium.
"If we figured it out we'd be winning on the road," Beasley joked with reporters. "There's no secret. We have to think that we can win and be able to incorporate what we do at home on the road. So far we haven't done that. I can't pinpoint it but we're working really hard to try and make that right."
4. Keep an eye on
Dynamo: Leading MLS in goals, Cubo Torres has eight goals in eight starts this season. One of the more potent offensive forces in the league, he had a goal and four shots against the Vancouver Whitecaps last week.
Union: Defensive midfielder Haris Medunjanin broke out offensively last week by notching his first MLS goal and two assists. He now sits tied for third in MLS in helpers with five on the season.
5. This and that
• The Union are 4-6-4 against the Dynamo all-time.
• With four assists on the season, Chris Pontius is two off his career high in helpers. He earned six total in 2016.
• The Union will be without midfielder Roland Alberg (hamstring) and center back Josh Yaro (shoulder), while Dynamo forward
• Alberth Elis is questionable with a hamstring injury.
Copyright CSNPhily