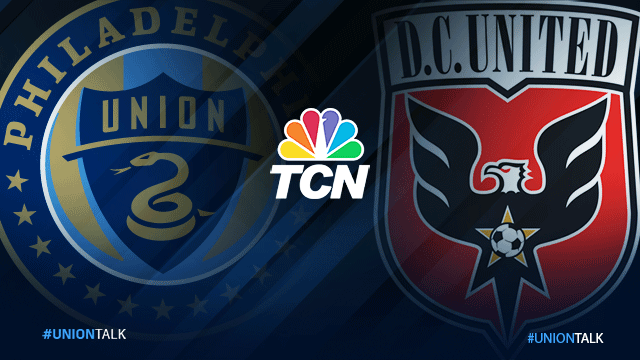 Union at D.C. United
7 p.m. on TCN
With a rejuvenated spirit and first win of 2017 in the bag, red-hot C.J. Sapong and the Union (1-4-4) look to continue their Eastern Conference upswing when they travel to RFK Stadium to face Sebastien Le Toux and D.C. United (3-4-2) on Saturday.
Here are five things to know:
1. Victory spark
For the first time since summer 2016, the Union won a game. The struggling club, which is still hanging at the bottom of the Eastern Conference, used a second-half push to dismantle the New York Red Bulls, 3-0, last weekend.
"It was something to build on as we look forward to D.C.," said Union manager Jim Curtin, whose club has a three-game point streak. "The result at home, as good as it was at 3-0, doesn't mean a heck of a lot if we don't follow it up with another good performance."
But that win was more than three points in the standings. As Curtin put it, the lopsided victory injected the Union with newfound confidence.
"Confidence is everything, it goes a long way," he said. "You see a little extra bounce in their step, a little more smiling in the weight room. A victory gives confidence. We were able to stick together and you see a little momentum on our side. Guys are excited to get back on the field."
With a side of confidence, the Union also feel relieved. According to Sapong, the winless run was a storm they were stuck in. And that storm has passed.
"We handled the adversity well and stayed loose in the locker room," he said. "Getting three points is something we worked very hard to and expected to have it before this point in the season but it adds a little bit of a story to everything. Going through this adversity in the beginning of the season will help throughout the season."
2. Surging Sapong
Despite the Union's troubled season, Sapong has shined bright.
"C.J. is obviously very hot right now," Curtin said following the Union's win.
Sapong carried the Union to their first win of the season with a stellar three-goal show in the win over the Red Bulls. Along with the victory, the veteran forward tied the league lead in goals with seven. But according to him, goals aren't the focus.
"I'm always trying to create space for myself but I feel where I provide the most impact is being a hassle for the defenders to play against," Sapong said. "Holding the ball up for my team and being tough on defense as well. I want to get the goals but I have to focus on the things that I do that help my team."
United have taken notice of Sapong's recent output. The Union will lean on the forward even more with the probable absence of attacking midfielder Roland Alberg, who suffered a hamstring injury last weekend and is questionable for Saturday.
"Sapong is playing really well right now," United striker Patrick Mullins said. "He's someone we are aware of."
3. United rebound
Although D.C. United are coming off a 1-0 loss to the Montreal Impact, their second in four games, manager Ben Olsen isn't worried. His club is still one point out of playoff position.
"We all have to be on a certain level to succeed," he said. "If four or five players turn it down just a bit, that's enough. I'm not overly concerned, I believe this group has a response in it. We're not in the worst spot in the table, we just have to focus on the next two games and get the points we need."
While United are looking for points, the Union will look to turn up the emotion.
"This game is about us," Curtin said. "It's about us continuing to build on the past couple good results. We're going to go on the road against the rival who we've had some heated games with in the past. This won't be any different."
For the home team, Saturday's match is about respecting the Union but controlling the tempo.
"It's a team that shouldn't be overlooked," Mullins said of the Union. "They just got their first win but that could have come a while back for them. They have dangerous players, the onus is for us to respond, be on the offensive and take on the opponent when they come in this weekend."
4. Keep an eye on …
Union: Though Sapong is on a tear, the key to Saturday's match could be young Adam Najem. The 22-year-old is the only natural No. 10 on the roster as Alberg may miss the contest with a hamstring injury. "We want to give guys opportunities," Curtin said. "We would be more than willing to plug him in."
D.C. United: As a result of United injuries, former Union man Le Toux has made three consecutive starts for his new club. He's rewarded Olsen with two goals over that span. "He does exactly what Seba does," Curtin said. "He runs the line and gets behind defenders. He's injected life into their offense."
5. This and that
• The Union are 7-8-4 against United all-time, which includes a Union road loss, 2-1, on April 1. Sapong scored the only goal for the Union.
• Le Toux currently ranks second on United with two goals, while Luciano Acosta leads the club with three.
• With a pair of assists last weekend, Chris Pontius tied Haris Medunjanin for the Union team lead in assists with three.
• The Union will be without Josh Yaro (shoulder), Maurice Edu (knee), while Alberg is questionable. For United, Patrick Nyarko (hamstring) and Nick DeLeon (lower ab strain) are out, with Steve Birnbaum (concussion), Bill Hamid (groin) and Julian Buescher (IT band irritation) are questionable.
• With Derrick Jones on international duty and Ray Gaddis banged up from last weekend, the Union could tap Keegan Rosenberry and Warren Creavalle for big minutes against United. Creavalle has yet to play this season, while Rosenberry started on the bench in the team's last three matches.
Copyright CSNPhily