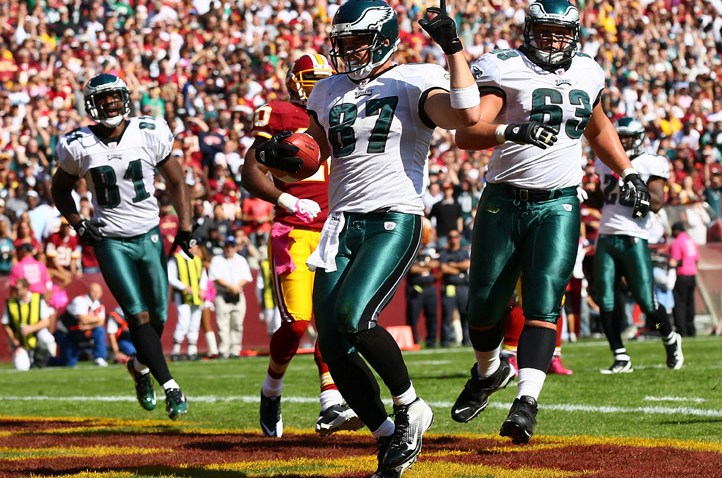 Sheil Kapadia at Philly.com wrote a nice post last week about how the Eagles are using Brent Celek this year. Cliff notes version: he's pass blocking more and running routes less.
But recently I've been noticing another trend with the Eagles tight ends — namely, more frequent use of two tight end formations with second-year man Clay Harbor. That was just my anecdotal recall though, so I checked the snap counts at Pro Football Focus.
Last year, if you exclude the Week 17 back-ups game against the Cowboys, Harbor only saw the field on 21 percent of all offensive snaps after he started playing late in the season. For the whole team in 2010, the Eagles ranked 30th in the league with only 16 percent of offensive formations including two tight ends.
This year, Harbor's playing time has increased to 29 percent, almost exclusively when Brent Celek is still on the field. That means the Eagles are now running two tight end sets significantly more than last year. However, even more than last year, Harbor's snaps have increasingly come on run plays. He's a run blocker on 58 percent of his plays, compared to last year's rate of only 48 percent.
So, what can we gather from this information? For starters, it lends to the growing sense that paying for Steve Smith as the Eagles fourth wide receiver was unnecessary. Smith has only been on the field for 12 snaps the last two weeks, while Harbor was in for 37 snaps. If the Eagles are increasingly going to two tight end formations, the fourth receiver becomes even less important.
Another player that has become marginalized with Harbor's increased playing time is Owen Schmitt. Last year, Schmitt blocked on 45 percent of run plays, but his performance was subpar. This season, his blocking has dropped to 19 percent of runs. Instead, Harbor is now in on more than half of them.
Finally, I wonder if the Eagles will be forced to keep three tight ends once again soon. Perhaps not if the coaches are only trying to get Harbor on the field more because he's playing well. But if the two tight end sets become increasingly important to this offense? It might be necessary to add a third tight end to the roster at some point.