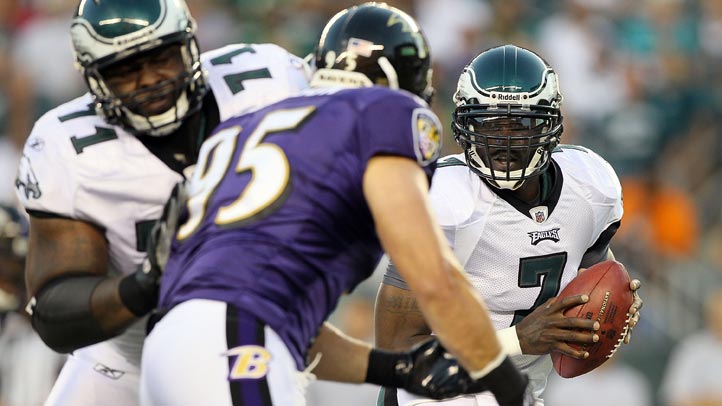 Each week we'll take a look at the decisive play that proved to be the difference between winning and losing.

Turning point: Trailing the Ravens 23-17 with two minutes to go in the game and the ball at the Ravens 1-yard line, Eagles quarterback Michael Vick was hit while appearing to throw a pass that fell harmlessly to the ground for an incompletion. Except that the officials ruled it a fumble on the field.
Replay ultimately reversed the call and a play later Vick scored on a quarterback keeper to give the Eagles the 24-13 lead. Eight plays after that, Ravens' quarterback Joe Flacco failed to convert on fourth down and Philly moved to 2-0 despite registering nine turnovers in those two wins.

The Eagles' bend-but-don't-break approach can't be sustained over the course of a season, but in the NFL wins count all the same. And Philly might as well be on the right side of the final score while they work out the kinks. And just like last week, those kinks start with Vick, whose 371-yard passing day shouldn't obscure some horrible decisions -- the first, was a first-quarter red-zone interception that cost the Eagles at least three points (and more likely seven). Then there was Vick's second pick, just before the fourth quarter with the Eagles driving. He misfired on a short pass over the middle intended for tight end Brent Celek, which eventually ended up in Ed Reed's hands. (And Vick could've been picked off earlier in the quarter when he threw a pass right to a Ravens defender while looking for Celek.)

But despite the poor decision-making and occasionally sloppy effort, the football gods were looking down on Vick and the Eagles.

Coach Andy Reid was asked about all those turnovers after the game Sunday.

"I did that to make sure that if we won the game, [the media] would have something to write about," he said. "We have to get better. There's nothing that I can tell you. I don't like turnovers, and I don't want turnovers. The players don't want turnovers, so we have to get better at it. You have to hang onto the football when you're given a chance to handle the football, and you have to make sure that you throw the ball to the right person. This isn't something that we planned on having." As for Vick, Reid admitted that "We need to get rid of a couple of turnovers in there, but I thought he did a pretty good job, and made some big throws down the stretch. …

"He was better than he was last week," Reid continued. "I thought he saw things, and he made some great decisions and some huge throws. He's still firing, and there's no hesitation. That's important. There's a confidence there that he has. Can you have the two turnovers that he had? No, you can't. But he saw things better this week than he did last week. I thought he played an overall good game."

If nothing else, Vick's improvement from Week 1 should quell the call for rookie Nick Foles (we think).

Vick said that he couldn't "explain" on the first interception but conceded that he played with much more composure down the stretch as compared to last week against the Browns.

"Going into the fourth quarter, I felt confident," Vick said. "Obviously I'm saying to myself, here we go again. You never know how it's going to pan out or what the outcome is going to be. You just look at your teammates. You look at your coaches, the people who depend on you -- obviously we're home and the crowd. You just want to get it done. It's just another opportunity to be 2-0 and that's what it all boils down to."

Ideally, the Eagles could win without averaging 4.5 turnovers a game. That said, we thank Reid for giving us something to talk about in the meantime.