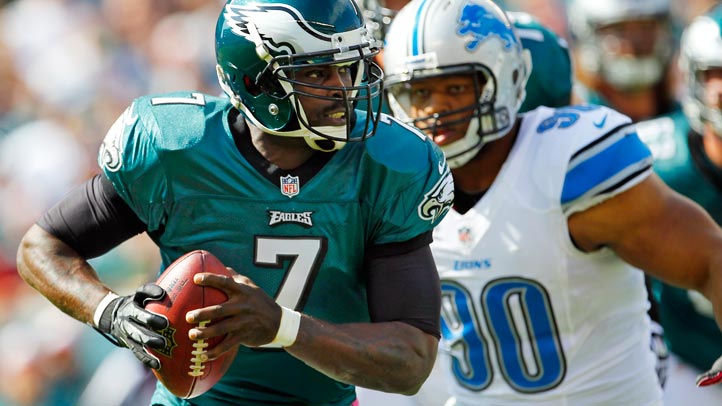 Even after the Eagles' 3-1 start there were plenty of skeptics. This is what happens when the franchise quarterback has 12 turnovers through the first month of the season. Philly is 0-2 since, their latest loss an utterly avoidable one at the hands of a desperate Lions team. The final, 26-23, was decided on a 45-yard Jason Hanson field goal in overtime although it never should've gotten to that point.

There are many number of instances in the game that could be considered "turning points" -- any of Vick's three turnovers (though, to be fair, the fumbled snap wasn't his fault); the ridiculous offensive pass interference call late in the third quarter against tight end Brent Celek that nullified a touchdown (the Eagles settled for three and took a 13-6 lead); the tipped pass by Detroit defensive lineman Ndamukong Suh on Vick's third down pass during the Eagles' final drive in regulation. Take your pick.
Philly punted and 12 plays later, Hanson striped a 19-yard field goal to send the game to extra time.

Any of those plays deserve consideration but it may have been the Eagles' first series in overtime that sealed their fate. Consider the play-by-play:
1-10-PHI25 (14:54) M.Vick sacked at PHI 18 for -7 yards (C.Avril).
2-17-PHI18 (14:26) (Shotgun) M.Vick sacked at PHI 4 for -14 yards (sack split by N.Fairley and K.Vanden Bosch).
3-31-PHI4 (13:41) (Shotgun) M.Vick pass incomplete deep left.
The only way that would've been worse: Vick takes a sack in the end zone and the game ends on a safety (which, incidentally, would be the case even under the NFL's new overtime rules). Instead, Philly punted, Detroit took over at midfield, and the Eagles' defense faced the near impossible task of keeping the Lions out of field goal range. That lasted a grand total of two plays when quarterback Matthew Stafford hit wide receiver Calvin Johnson on a 17-yard gain to get to the 27-yard line and that set up the inevitable game-winning field goal.

So, taking the long view, what does this mean? As far as the NFC East goes, not much. The Eagles remain one game back of the Giants in the division with two-and-a-half months remaining in the season. For now, coach Andy Reid willingly shoulders the blame.

"Listen, I'll take responsibility for (the loss)," Reid said after the game, "I just know it wasn't good enough all the way around. There were time and places where everybody has to look themselves in the mirror and get better. Me included."

But there's the lingering issue of Vick's inability to avoid miscues. Whether they're drive-killing turnovers or sacks, it's hurting the team. Coach Andy Reid has staunchly defended Vick and, in general, he seems to favor veteran QBs over rookies. Which means, in all likelihood, that Vick's job is safe for the time being. Plus, it's hard to give up on Vick's athleticism. Despite his inability to hold onto the ball, he still completed 61 percent of his passes against the Lions (28 for 46) for 311 yards, 2 TDs and 2 INTs, and added another 59 yards on the ground.

Whatever Reid decides, he won't do it quickly; the Eagles are now on their bye and won't play again until Oct. 28 when they host the undefeated Falcons.

"Yeah, I think it's a good time for a bye," Vick conceded. "I think we need to figure out what we need to do to continue to be able to finish games."