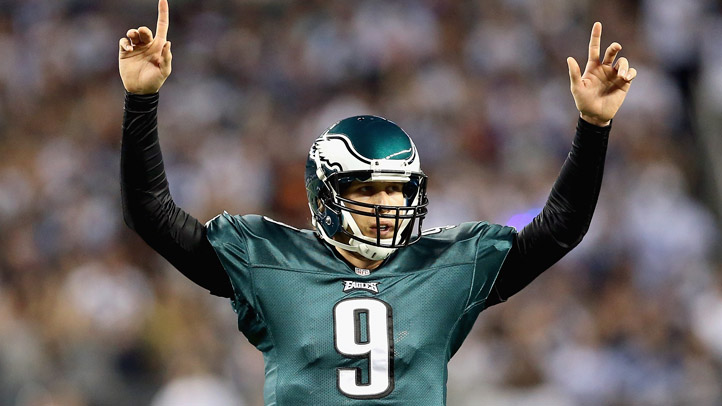 Each week we'll take a look at the decisive play that proved to be the difference between winning and losing.

It took nine weeks (NINE!), but the Eagles finally won a football game. If it seems preposterous, it should. That's more than two months, a lifetime in football terms, and the ineptitude was enough to cost a lot of people their jobs, if not immediately (Juan Castillo, Jim Washburn, random front-office types), then in the coming weeks (almost everybody else). One of those people -- Michael Vick -- got to glimpse the future with the rest of us as rookie quarterback Nick Foles overcame a slow start to get red hot and do something we haven't written about since October: lead a game-winning drive.

And in true 2012 Eagles fashion, it wasn't easy. With two seconds on the clock and trailing 21-16, Philly had the ball at the Tampa Bay 1-yard line. Foles took the snap, rolled right and found Jeremy Maclin in the end zone. The official review stood, there was no time left on the clock, and thank you merciful god, Philly won their fourth game of the season.

"He came off and he wanted that play," Reid said of Foles' touchdown-winning throw. "It was a play we had in the game plan for that situation and it was the one he liked the best and he was feeling it.

"Listen," Reid continued with a huge grin across his face, "it's a great thing when your quarterback's in tune like that."

"I just like a movement play in that situation," Foles said, "because it changes throwing lanes. If you're in the pocket, a guy can undercut it whereas if you're on the run there's no undercut. It just felt good -- it was the first play that came to my head."

While that's an accomplishment in itself, the real story is how the Eagles found themselves in this position.
The last drive started at the Philly 36 with 2:44 remaining. Foles was just 5-for-10 on the final series but the third-rounder out of Arizona has impeccable timing. He hooked up with Maclin (who finished with 9 catches for 104 yards) on 3rd-and-14 for a 23-yard gain to keep the chains moving, and then he found Jason Avant (7 catches, 133 yards) for 22 more yards on 4th-and-5. Avant's grab came at the Bucs' 1-yard line with about 10 seconds on the clock and the Eagles were out of timeouts.
Foley got the offense lined up, spiked the ball with two ticks to go, and found Maclin a play later for what might rank as one of the best wins in Andy Reid's career. It sounds silly, yes, but if you saw him celebrating afterwards you would've thought they won the Super Bowl.

"Nick made huge plays," defensive lineman Cullen Jenkins added. "He made a lot of plays standing in the pocket and (the Bucs) have a great d-line, too. He did a lot of good things for us today and really helped us to win."

So what does this mean for the rest of the season? Not much, really. At least in terms of Reid's job status, or Vick or most likely cornerback Nnamdi Asomugha. Philly's officially eliminated from the playoffs, but Foles continues to get better, and whomever coaches this team in 2013 will have some young talented players to rebuild around. It doesn't mean a lot now but it will in the coming months.