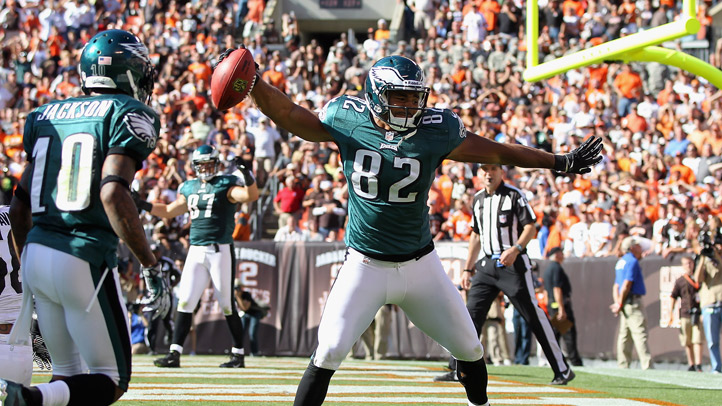 Each week we'll take a look at the decisive play that proved to be the difference between winning and losing.

Turning point: Facing a 3rd-and-goal from the Cleveland 4-yard line with 1:23 in the game and the Eagles trailing 16-10, Michael Vick finds tight end Clay Harbor in the end zone. A Kurt Coleman interception on the Browns' next possession sealed a Philly win that was very much in doubt for the first 58:37.

We suspect that subsequent Turning Points won't be so obvious but there was virtually nothing to like about the way the Eagles played in their regular-season opener. The game included eight interceptions: four each from Browns rookie Brandon Weeden and Vick. Weeden's struggles aren't surprising; it was his first NFL start and he plays on a pretty bad team.
Vick's performance, meanwhile, should be somewhat concerning. Partly because fans and media always overreact, but more importantly because it was a wholly forgettable effort by the team's franchise quarterback. The lowlight of a day full of them: Cleveland linebacker D'Qwell Jackson taking an errant Vick pass to the house. (Ironically, that gave Vick one more touchdown throw to a Browns player than Weeden.)

"When you throw interceptions it's one thing," Vick said after the game according to CSNPhilly.com. "But when you throw an interception for a touchdown and it changes the dynamic of the game, when you look up at the scoreboard and now you're losing, you feel a sense of dissatisfaction."

"I have a responsibility to this team and that's to lead them, not to hurt them. So I was more disappointed in that more than anything. I just wanted another chance to get the ball back and try to make things right."

By the time it was over, Vick was 29 of 56 for 317 yards with two touchdowns and the aforementioned four interceptions. A win's a win, of course, but the Eagles' performance created more questions than it answered (among them: why was Vick throwing 56 times?). But it's also worth remembering that it's Week 1. The Packers, Giants, Steelers and Saints lost. It wasn't pretty, but Philly snuck out of Cleveland with a victory.
This game was a microcosm of Philly's 2011 season: a slow start, things get worse before they get better, and finally figuring out down the stretch. The difference: this time around, the Eagles were able to salvage things before it was too late.

"It's definitely too much like last year to be happy with," right tackle Todd Herremans said. "We're definitely not happy with all the turnovers and penalties, but we stuck it out as team, didn't start pointing fingers at anybody and grinded it out in the end.

"If anything, we just came together as a team on this one. That's the biggest thing we'll pull from this. We're going to go through adversity and stuff here and there. Even as bad as we played and the mistakes we had, we were still able to get the win."

Vick echoed Herremans' sentiments and applauded his teammates for sticking together despite the long afternoon of some pretty unwatchable football.

"Our team has a great deal of resolve," Vick said after the game. "On that last possession, I just knew it was do-or-die. ... It was us in the huddle just stepping up and saying let's get it done. We've been through so much in the game with the penalties and the turnovers. The great thing was nobody pointed a finger. We just stuck together and encouraged one another."

Encouragement is nice but at the end of the day coach Andy Reid, offensive coordinator Marty Mornhinweg and Vick need to sort out the offense. Luckily, there are 15 games to do it.