Despite Simone Biles withdrawing from some of the Tokyo Olympics women's gymnastics events, she can still compete in the summer games.
What happened to Simone Biles?
Biles had what was referred to as "a very uncharacteristic" performance on the vault Tuesday morning. Olympic commentators said Biles may have gotten lost in the air (something gymnasts call "the twisties") during the stunt on the vault.
The Olympian decided to prioritize her mental health and exit her team final and individual all-around final at the Olympics earlier this week.
"After further medical evaluation, Simone Biles has withdrawn from the final individual all-around competition. We wholeheartedly support Simone's decision and applaud her bravery in prioritizing her well-being. Her courage shows, yet again, why she is a role model for so many," USA Gymnastics said in a statement on Wednesday.
Biles' sudden withdrawal from the women's team gymnastics final and the individual all-around final has prompted a worldwide conversation on athletes and mental health.
On Wednesday night, Biles tweeted a thank you to supporters after her withdrawal.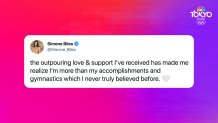 Is Simone Biles out of the Olympics?
Tokyo Olympics
Watch all the action from the Tokyo Olympics live on NBC
No, not as of this writing. Biles could still compete in next week's individual finals, starting Sunday. She is being evaluated daily for future competitions, according to a statement from the USA Gymnastics team.
Remaining Olympic schedule for Simone Biles
On Sunday, Aug. 1, the women compete in uneven bars and vault. Biles qualified for both events. If she still competes, she's favored to win vault. In fact, if she performs the Yurchenko double pike vault, it will be the fifth skill named after Biles.
Then on Monday, it's on to the floor exercise for the female Olympic gymnasts. This is the event Biles is reigning Olympic and World Champion.
The final event for the women is on Tuesday when they will compete on the balance beam. Biles won a bronze medal for the beam in Rio in 2016.
What impact could 2020 Olympics have on Biles's participation in 2024 Olympics?
The five-time Olympic medalist may still consider going to the Paris Olympics in 2024.
Back in April, she said her coaches, Cecile and Laurent Landi, who are French, have encouraged her to compete.
"Cecile and Laurent are from Paris so they've kind of guilted me into being a specialist," Biles said at the Team USA Media Summit in April, according to NBC Olympics. "But the main goal is 2021, the tour, and then we'll have to see."
However, with what's taken place so far with Biles in Tokyo, her next move remains uncertain.