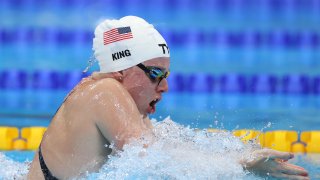 The United States got back in the pool Wednesday morning with qualifiers for five different events.
Up first was the women's 100m freestyle. Abbey Weitzeil and Erica Brown were the competitors for the United States, fresh off their bronze medal in the women's 4x100m freestyle relay.
Weitzeil advanced to the semifinals, finishing in 11th with a time of 53:21. Brown just missed out on advancing, as her time of 53:87 placed her in a tie for 17th. The top 16 times advanced to the semifinals. The U.S. did not have reigning gold medalist Simone Manuel competing after she failed to qualify in the event before the Olympics.
Both Ryan Murphy and Bryce Mefford advanced to the semifinals in the men's 200m backstroke heats. Mefford impressed in the qualifying heats, with his time of 1:56.37 good for third out of all the swimmers. Coming off his bronze in the men's 100m backstroke on Monday, Murphy finished with a time of 1:56.92, the seventh-fastest time of the heats.
Lilly King and Annie Lazor moved on to the women's 200m breaststroke semifinals after finishing in the top 16 of the qualifying heats. King, who won bronze after upset by teammate Lydia Jacoby in the 100m breaststroke for the gold, finished second with a time of 2:22.10. It's a new personal record for King. Lazor finished second in her heat with King and fifth overall at 2:22.76.
However the star of the show was South Africa's Tatjana Schoenmaker, who set a new Olympic record with her time of 2:19.16. She broke American three-time gold medalist Rebecca Soni's previous record of 2:19.59, which was set at the 2012 Olympics in London. Shoenmaker was just .05 seconds away from the world record of 2:19.11, a mark held by Denmark's Rikke Moller Pederson.
The Americans kept on dominating in the men's 200m individual medley. Michael Andrew ended the heats with the best time of any swimmer at 1:56.40. Coming behind in fourth was Chase Kalisz, with a time of 1:57.38. Both advanced to the semifinals of the event. Kalisz scored the U.S. its first gold medal of the Olympics, winning the men's 400m individual medley.
Tokyo Olympics
Watch all the action from the Tokyo Olympics live on NBC
Finally, rounding the swimming events for today was the women's 4x200m freestyle relay. The U.S. group of Arabella Sims, Paige Madden, Kathryn McLaughlin and Brooke Forde came in second, ending with a time of 7:47.57. The quarter will compete in the finals for the event.
The semifinals for the four individual events will take place on Thursday. The finals for the women's 4x200m freestyle relay is also schedule for Thursday.