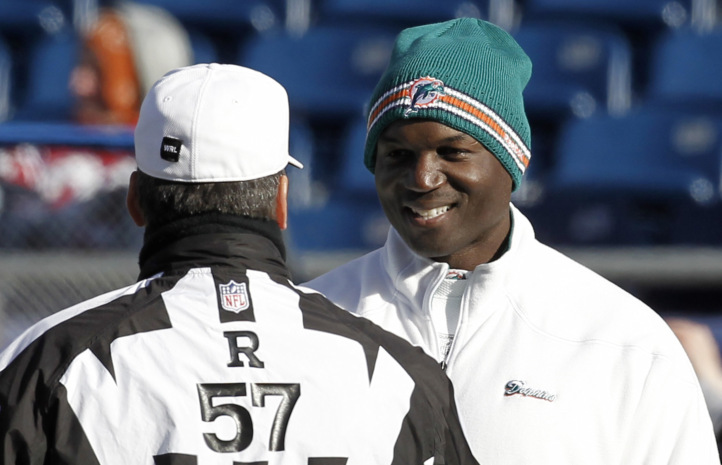 On Tuesday, coach Andy Reid fired offensive assistant-turned-defensive coordinator Juan Castillo. It was a strange marriage from the start, something Eagles chairman Jeffrey Lurie conceded.
While the defense had its warts, fans and media have pointed out that Castillo had nothing to do with Michael Vick's turnover troubles, the struggles along the offensive line, or the general offensive ineffectiveness. These all fall under Reid's purview and he remains employed.
But defenses win championships, the old saying goes. And if Philly can shore up that side of the ball, it'll be one less thing to worry about. Todd Bowles, who joined the Eagles' staff as the defensive backs coach this offseason after coaching with the Dolphins (including a stint as the interim coach last season after Tony Sparano was fired), assumes the defensive coordinator job.
He becomes the latest member of the Bill Parcells coaching tree to join the coordinator ranks. After an eight-year career as a defensive back with the the Redskins and 49ers, Parcells hired Bowles in 2000 as an assistant on his Jets' staff. On Tuesday, Bowles talked about the experience.
"Bill kind of taught me how to see the whole game and how to see the team as a whole," he said. "He always wanted me to learn more than my position. The biggest thing he taught me was, at the end of a game of a loss, the people who take the loss the hardest are the coaches. The players can forget about them in two or three days, the head coach has to move on and stand in front of you guys, but the defensive coaches are pissed off because they know what really happened. You have to keep your coaches up to keep your players up."
This all sounds well and good but the NFL is a bottom-line business. The defense has to improve, and the Eagles need to start winning more games than they lose. One way to do that: don't blow fourth-quarter leads. It happened twice in the last two weeks and Castillo was fired because of it.

"We have to finish at the end of the games," Bowles said. "We have to finish and win games. The bottom line is when you're out there on defense it doesn't matter what happens. When you're out there at the end of the game you've got to finish."

Bowles admits to being surprised that Castillo was let go but admitted that "In this game, you kind of see things every year that make you surprised until you stop being surprised. It's the profession we choose. If you win, you're great. If you lose, you stink."

But this situation doesn't compare to what Bowles went through last season. The Dolphins started 0-7 and by Week 14 Sparano had been fired. Bowles took over for the final three games and Miami went 2-1.

"Last year probably was the biggest shock," he said. "So, coming into this year -- it's a similar situation as far as it happening in-season, it kind of prepares you not to get too high or too low, to just be professional and do your job. And then if something happens, you're ready to do everything else also."

Another lesson from his Miami experience: it's not how you start, it's how you finish.
Still not convinced? How about this, courtesy of CSNPhilly.com's Reuben Frank: "The last eight times the Eagles were 3-3, they went to the playoffs seven times and went 10-6 the other time. Think about it."

See, nothing to worry about.