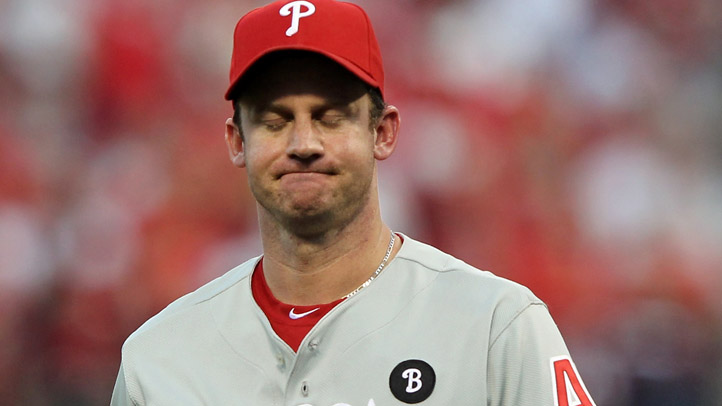 The most frustrating thing about this postseason, so far, has been the recurring theme of "what might have been." Those ugly words, borne of a squandered lead in Game 2 of the NLDS, can haunt fans who have experienced a loss that, if only this or that or the other would have happened, could have turned out differently.
That feeling again reared its head in Wednesday night's 5-3 loss in St. Louis, when the Phillies failed to clinch their fourth-straight National League Championship Series berth, despite getting off to a red-hot start against Cardinals starter Edwin Jackson, when they needed all of three hitters to take a 2-0 lead in the first inning.
It looked to be an easy win for the Phillies, but it turned into a veritable carbon copy of Game 2, as the offense dried up and the Cardinals scrapped together enough hits to send Roy Oswalt and the Phils back to Philadelphia for the decisive Game 5.
So with some 48 hours until Roy Halladay toes the rubber in Citizens Bank Park, the fans are left wondering about what should have, and would have, happened, had some things played themselves out differently. If only Cliff Lee didn't walk Lance Berkman in Game 2, or if only the offense didn't stop having good at bats, or only if the breaks stopped going the way of the Cards.
Over the course of a baseball season, these moments tend to balance themselves out, because 162 games is a heckuva long time, and unless your the Atlanta Braves or Boston Red Sox, you might not really notice them.
But in the playoffs, when an entire season's worth of stress and excitement is condensed into a five- or seven-game series, those moments are magnified to the point where it's all they are talked about on talk radio the next morning. In fact, there are people on Twitter and around the water cooler, right now, saying something like "If only Ryan Howard would have singled in that first inning," or "if Chase could have been safe at third base," or "if only Pence homered in the eighth."
It's an act of futility, trying to re-create the past, because nothing actually ever changes and you're only going to drive yourself batty if you keep replaying those at-bats over and over in your head. Sadly, you cannot will some more plate discipline to the middle of the lineup or a few more inches of break to a misplaced Oswalt curve ball.
But that's baseball, as they say. There is a laundry list of things that could have happened, and any one of those things could have altered the outcome of what, so far, has been a nail-biting series. It's the way of the baseball world sometimes, because, let's face it, playoff baseball is nothing if not exciting.
And really, what fun is a sweep, anyway?
(Actually, it's loads of fun, but we must make the most of this situation, right?)