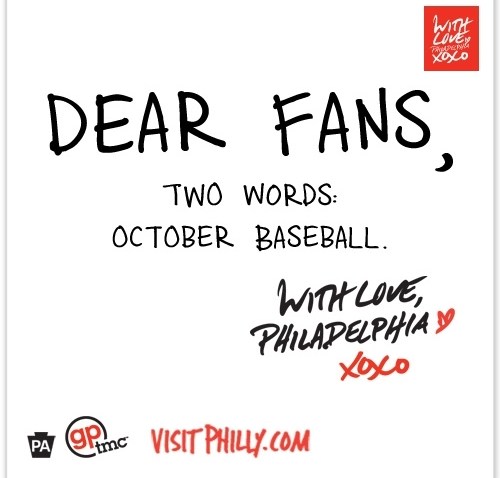 In love with the Phillies? Then you might be interested in a very special love letter from the city of of Brotherly Love.
And don't worry, your significant other won't get mad -- unless they're a Mets fan.
The letter, made especially for Facebook and Twitter users is addressed to the Phillies Faithful. It reads "Two words: October Baseball." And it's signed by Philadelphia, complete with a heart and an "xoxo" for good measure.
It's the latest tourism ad from the Greater Philadelphia Tourism Marketing Corporation.
The $1.6 million campaign began on May 30 and has included email, banner ads, television and print ads. The campaign has included the promotion of Philly's history, restaurants, museums and sports teams, of course.
Check out the GPTMC website for bookings and travel deals. And be sure to cheer on the Phightin' Phils as they make their latest run in the postseason.
---
Fan, follow and download: Get the latest from NBCPhiladelphia.com anytime, anywhere. Follow us on Twitter, Facebook and NBC Philadelphia. Sign up for our sports newsletter. And, get breaking news delivered right to your mobile phone -- just text PHIBREAKING to 639710 to sign up. (Message and data rates may apply.)