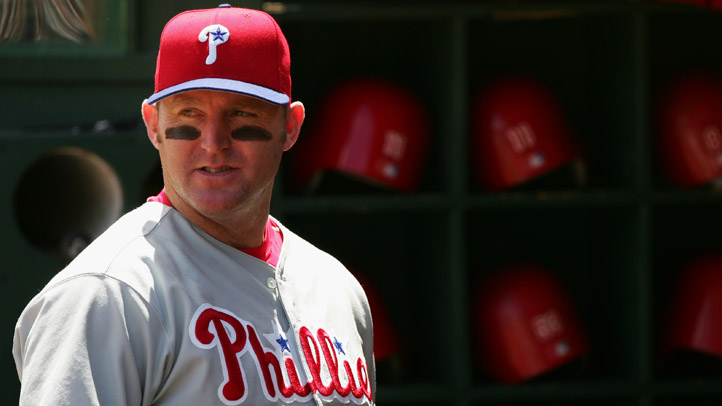 Jim Thome is the newest member of the 600 homer club; could he soon be the newest Phillie?
The ex-Phillies All-Star knocked his 600th homer earlier this week. He is playing out the rest of the season DHing for the out-of-the-hunt Twins. But with Thome's milestone secured and the Twins 11 games out in the AL Central, the lefty legend could be on the trade block.
Rumors that the Phillies could be interested in the big guy began to pick up steam Friday.
It's August so if Thome was to be traded he would need to clear waivers. With the Phillies leading all of baseball in wins they are dead last in waivers order so it's likely that Thome would be claimed before ever dropping to the Phils.
There could also be other factors at play, according to ESPN's Jayson Stark:
Despite talk that the Phillies would like to trade for a left-handed threat off the bench like Thome or Jason Giambi, we hear that unless the perfect guy falls into their laps (with no significant dollars attached), their plan is for the recently signed Jack Cust to fill that niche. Cust in his first five games for Triple-A Lehigh Valley: 5-for-16 (.313) with two doubles and a home run.
So the likelihood of Thome or fellow lefty slugger Giambi wearing red pinstripes this season that is unless the Twins or the Rockies (in Giambi's case) decide to flat out release a veteran star.
Even if it's unlikely that the Phillies get Thome it is worth the sake of argument to make the case for having the likely Future Hall of Famer back on the team where he hit 96 of his career homers.
Thome hasn't played the field -- besides four games -- since he was traded from the Phillies after the 2005 series. So it's likely that if he were to come to Philly he would be used only as a pinch hitter and nothing more.
As a pinch hitter over his career the soon to be 41-year-old has batted just .237 with only four homers in 118 at bats. But he has managed an impressive .355 on-base percentage in his 141 plate appearances.
So if the Phillies were to somehow find a way to grab Thome, they might not get a good average or even power guy (.415 slugging as a pinch hitter) but there is an ex-factor -- Phillies skipper Charlie Manuel.
Uncle Charlie is a mentor to Thome having both coached him as a batting coach with Cleveland and as a manager with the Indians and Phillies.
"Charlie has been very, very special to me throughout my career," Thome said after he hit No. 600. "I dedicate a lot of those home runs to him because he's been there with a lot of confidence. And in times of struggle, he built us up and pep-talked us."
If there is one certainty when it comes to Phillies general manager Ruben Amaro, Jr. it's that he will get his guy if he wants him. So really if Thome becomes a Phillie could really come down to Amaro wanting him.