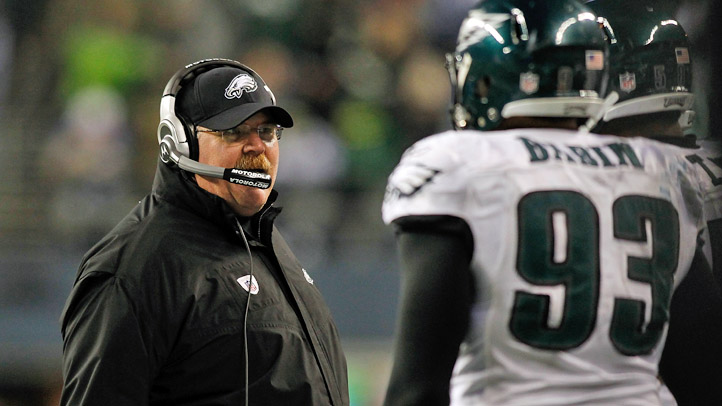 Welcome to The Takeaway, where we take away the three key points from the Eagles' previous game, in this case a 31-14 loss to the Seahawks on Thursday Night.

1. Andy Reid is magically bulletproof. I was watching the Eagles eat it on Thursday night at a bar with an Eagles fan, and the fan was like, "Well, at least Andy will get fired." That prompted this exchange:

Me: They're not gonna fire him.

Him: Are you kidding? They HAVE to fire him.

Me: No, they don't. They'll fire Juan Castillo, make him the scapegoat, and NOTHING will change.

Him: No way. They can't do that two years in a row.

Wanna bet? Yesterday, Jason La Canfora of NFL.com reported that the Eagles aren't gonna fire Reid, and here's the kicker quote:
The Philadelphia Eagles don't plan to fire coach Andy Reid at this time, despite their 4-8 record, and they know it would be very difficult to replace him with someone better.
Are you joking? That's why Andy Reid isn't being fired? Listen Jeff Lurie, EVERYONE is better than Andy Reid. A miniature pony is better than Andy Reid. Furthermore, how do you know there's no one out there better until you look? Grrrr. The only saving grace of this whole mess is that Reid (bless his heart) might resign if the team forces him to fire Castillo, which would be eight different kinds of hilarious. HOW DARE YOU MAKE ME FIRE MY INCOMPETENT LACKEY? Please resign, Andy. And don't butcher the clock and do it six minutes too late.

2. DeSean Jackson: Oakland Raider! A year ago, the idea of letting DeSean Jackson walk away from the Eagles would have been nutty. We all knew DeSean was capable of the occasional lapse in good judgment, but he always made enough plays to make up for that. That he would spent his contract year straight up underperforming on the field will remain a mystery to me forever. Seriously, how do you screw that up? He's gone now. The Eagles have seen enough, and this team will be left immeasurably poorer on offense and special teams because of his departure. When Jackson bolts for a lucrative free agency contract this spring, I'll be left with the nagging feeling that it didn't have to end this way.

3. Seriously, that was a nice run by Beast Mode. You can't even get mad at a run like that.