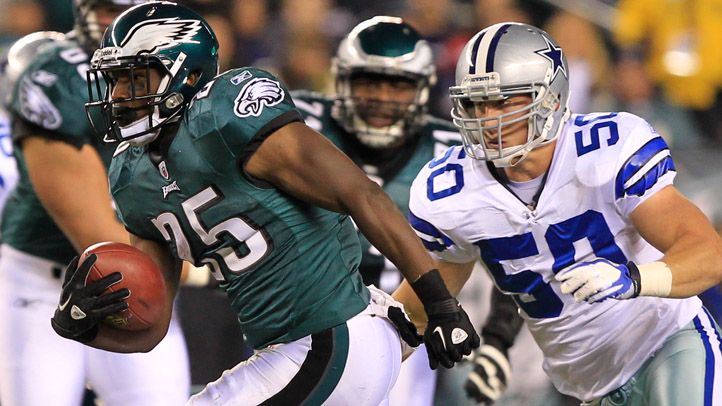 Welcome to "The Takeaway," where we take away the three key points from the Eagles' previous game, in this case a 34-7 victory over the Cowboys.

1. Second place and climbing. It took just one day for the Eagles to vault from the NFC East cellar to second place, and I don't think they're finished ascending. There's a certain comfort in knowing that your favorite team has already been through its worst stretch of the season and survived its worst run of injuries.

Last night, the Eagles were healthy, confident and lethally efficient. For the first time since Howie Roseman assembled this team back in August, they played to their potential, giving their finest performance of the season. And you got the sense that a massive correction was taking place -- with the Eagles reasserting control of the division while the Cowboys and Redskins (who looked very much like the Redskins) fell by the wayside. The Eagles have Chicago and Arizona in consecutive weeks coming up. The Giants have San Fran and New England. Both teams could easily be 5-4 by the time they throw down for the second time in Week 11. If they are, do you have any doubt that the Eagles will win that game? I don't.

2. Whoa hey, where did THIS Andy Reid come from? Reader CMBSpecial put it best:
2 successful challenges in 24-0 clock managed rout? ALERT: ALIEN BODYSNATCHING HAS BEGUN! ANDY REID IS PATIENT ZERO.
Oh ho ho! It's funny because Andy Reid is usually horrible. Seriously though, someone swapped out Andy Reid's brain during the bye week with the brain of a competent head coach. How else do you explain the sensible challenges or the fact that the Eagles let Shady McCoy run the ball 30 times? THIRTY TIMES! Old Andy Reid would never do that. Old Andy Reid would lock Shady in the attic after his 12th carry. It's almost as if he's making rational, intelligent decisions. That can't possibly last.

3. Someone needs to tell Jason Kelce that the QB is probably in the shotgun if you can feel his hands on your butt. No hands, no QB. I don't know about you, but I ALWAYS know when someone is or is not touching my butt.