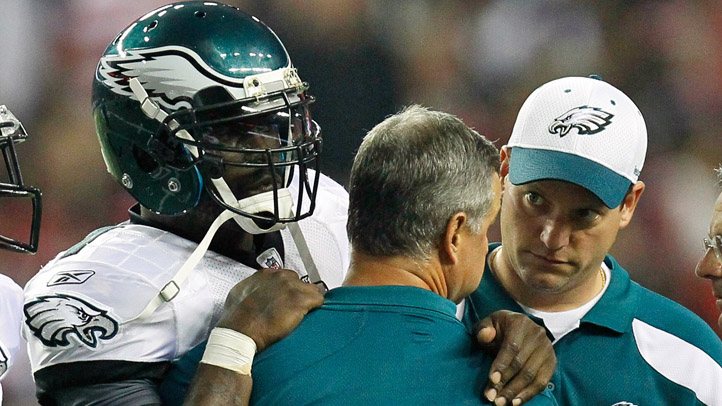 Welcome to The Takeaway, where we take away the three key points from the Eagles previous game, in this case the team's 35-31 loss at Atlanta.

1. Well, that was inevitable. The problem with Michael Vick getting injured last night is that I think you and I both know that won't be the last time this season that he gets hurt. Once he passes his concussion tests and finds the part of his tongue that he bit off and left on the Georgia Dome turf, he'll be back in the Eagles lineup and you'll again have to sit there and wait for the next time Vick gets jacked up (by an opponent or by Todd Herremans) and you sit there with your head between your knees praying it's "just" a concussion instead of a broken leg. This is what life is like with Vick as your QB. And while his injury last night wasn't the result of him scrambling around, I don't believe he was wearing a mouthguard, which would have saved his tongue and perhaps softened the blow he took. Mike Kafka played gallantly in Vick's absence, but the team needs Vick back, and you're just going to have to hope that Vick's injuries this season are both minimal and conveniently timed. Otherwise, this whole "Dream Team" talk won't mean much.

2. By gar, Andy Reid can still be Andy Reid. He threw that first challenge flag and you thought you'd get the "Good Andy Reid" all night long, BUT NO! Reid later blew his chance to overturn the critical Kelvin Hayden interception, which clearly touched the ground. Then Reid again blew it by having Mike Kafka throw short on third down, once on 3rd and 8 with nine minutes left, and then on 3rd and 3 with two minutes left. I know Kafka is green, but you can't design plays that are hilariously short of the marker in those moments. It's like watching Jim Miller run the old Bears offense. Also, if Reid could tell Juan Castillo to have someone cover the tight end, that would be a help.

3. Don't show your face in Philly, Dunta Robinson. You didn't even have your arms up. HEADHUNTER.