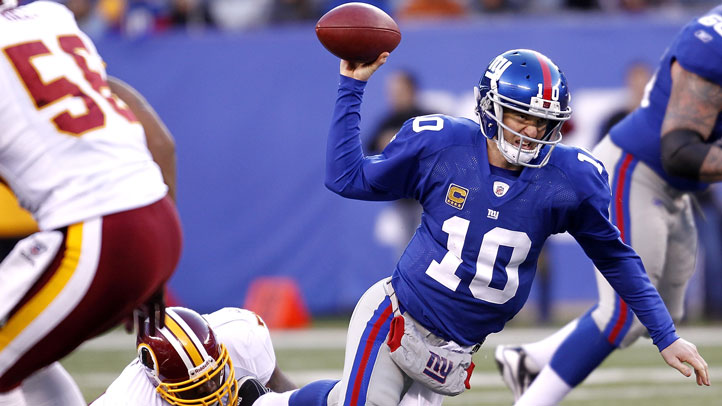 Welcome to "The Takeaway," where we take away the three key points from the Eagles' previous game, in this case a 45-19 win over the New York Jets.

1. Thanks, Eli! The Eagles needed one of two unlikely upsets to happen this weekend in order to remain eligible for the NFC East title (Bucs over Cowboys or Redskins over Giants), and lo and behold, Little Eli Manning came through with his absolute WORST performance of the season. Here's what needs to happen now for the Eagles to win the division:

A. They need to win their final two games

B. The Giants have to lose to the Jets next week and beat Dallas in Week 17

If those two things happen, then PRESTO! The Eagles are division champs. Please note that, since Detroit and Atlanta both have nine wins, the Eagles CANNOT secure a wild card berth to the playoffs. It's the division or nothing. And what seemed like an impossible scenario just a couple of weeks ago now appears more and more realistic. Why can't Eli have two horrible games in a row? Why can't the Cowboys choke in their usual Cowboy-sy way? Why can't this team - which is playing to its potential roughly three months too late - run the table?

If the Eagles make the playoffs, they may very well be the most dangerous 8-8 playoff team ever (a division win would likely bring the Falcons here for a Wild Card game). If they just miss out, then we're going to spend this offseason regretting the many early miscues that caused this rally to be all for naught.

2. Jason Babin is a beast. That's 18 sacks for Babin on the season. That puts him three shy of Reggie White's team record for sacks in a season.

Fun note: The Minister of Defense had 21 sacks in 1987, which is impressive when you consider that the 1987 regular season consisted of just 12 games. Babin is 4.5 sacks short of Michael Strahan's all-time NFL record. I do not expect Tony Romo or Rex Grossman to lay down for him to help him achieve that mark.

3. Does this mean Andy Reid isn't gonna be fired? I know. Fake WIP Caller is gonna be so mad. Especially if this late run spares Juan Castillo the axe.