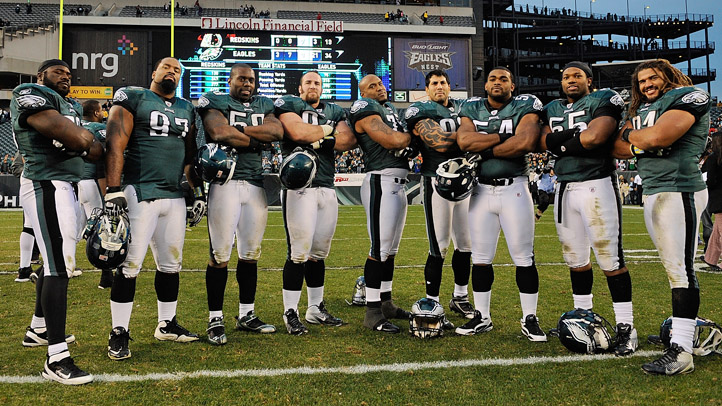 Welcome to a special edition of the Takeaway, where we point out five things the Eagles have to do after missing the playoffs this season.

1. Four straight wins to close out the season doesn't necessarily mean anything. Last week, I warned you about the idea that teams carry over momentum from one season to the next. The Eagles ended this season with four straight wins, but did you happen to notice the teams that they beat during that stretch? Not one of the teams they beat finished above .500. They won four straight against a 6-10 Miami team, a Jets teams in desperate need of a QB, a Cowboys team that sat its QB once he got hurt, and Rex freakin' Grossman. YOU CANNOT BUILD ON THIS. You can't count on this team barging out of the gates next season and doing all the stuff they were supposed to do THIS season. Football doesn't work that way. So while it's nice that the team didn't pack in it at the end of the season, that doesn't mean we won't be right back here in the same spot a year from now.

2. Andy Reid is coming back. You now have permission to let out of a five-minute groan. Charley Casserly of CBS confirmed the news last night, but there is some good news: Someone could still be fired! It's true! Just look at this report saying that Reid has delayed his normal weekly press debriefing, perhaps so he can have time to make changes to the coaching staff. Knowing Andy, he'll probably need to burn a timeout before making that decision.

3. Hire Spags! Oh, you should have seen Twitter light up the second Steve Spagnuolo was fired last night. In fact, there was one report last week that Spags to the Eagles was already a done deal. And now that the Giants have to play another game, the Eagles can probably beat them in the race to bring Spags back to the NFC East. Spagnuolo is a gifted defensive coordinator who almost certainly didn't get a fair shake in St. Louis. By hiring him, the Eagles can improve their defense AND have a interim head coach ready should they fire Andy sometime next year. Fingers crossed!

4. Michael Vick is still turning the ball over. One more lost fumble yesterday. One more interception yesterday, giving Vick a career high in picks for a season. This is part of the reason why you can't trust this team to come out all guns blazing in 2012. Under the surface, they're still making many of the same mistakes that led them to a 4-8 record.

5. Cowardly prediction: DeSean will be back. And poutier than ever!