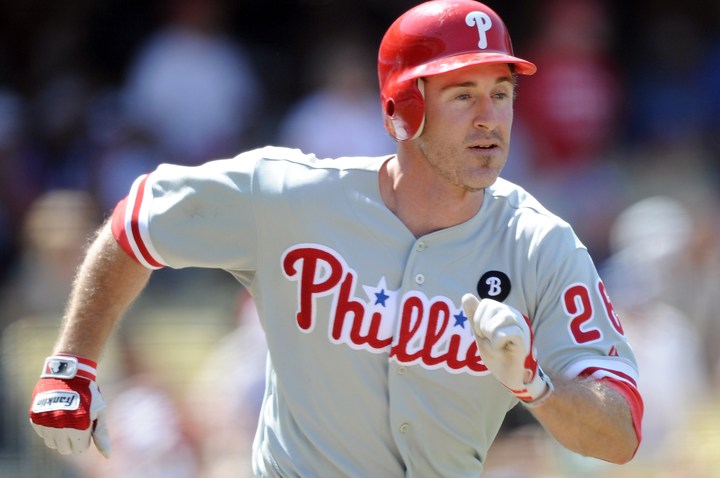 Of all the players not named Roy Halladay, Cliff Lee and Cole Hamels, there is perhaps no greater concern over the health of a Phillie than that of Chase Utley. The second baseman, who missed just over a month of the season in 2011 due to a knee injury, has been the greatest offensive asset for the Phillies since he came into his own in 2005.
While Jimmy Rollins has been the sparkplug and Ryan Howard has been the power provider, it's been Utley who has provided the steadiest bat in the lineup -- to go along with pristine defense at second base -- for the last seven seasons.
But his presence as a lineup mainstay is very quickly coming to an end, as evidenced by his knee injury -- which isn't likely to go away -- and because he has yet to make an appearance in a spring training game.
While the most ardent pessimist would view his absence from the lineup as a red flag and a sign that his injury might be flaring up again, based on the luck this team has had concerning injuries over the last few seasons, that isn't unwarranted. However, the more likely scenario is that Charlie Manuel is -- finally -- taking it easy on Utley by not pushing him too hard, too early. And that is something that I don't disagree with.
MLB.com's Todd Zolecki waxed on about this on his blog on Tuesday, where he gets feedback from both Manuel and general manager Ruben Amaro Jr., who insist that it is all part of the plan to keep Chase fresh and healthy in 2012.
I talked about how Howard's infection was a blessing in disguise because it delays his return to the field, which should result in him being less wore down come October -- a situation not entirely different from Chase's. If they can delay his erosion, then it can only benefit the team when they need it the most. For evidence of this, take a look at what he did in 2011.
After making his debut on May 23 last season, Utley struggled early on, as he was essentially going through spring training during the regular season, before settling in and starting to look like himself around the middle of June. And from there on out, it was like Utley never left us. He was getting on base, hitting for average and power, and playing defense like we've come to expect.
That level of play didn't last forever, and it was about two months later when he started to noticeably decline. In 47 games between June 14 through Aug. 9, Utley had a triple-slash of .289/.371/.483 with six homers.
After that, he began to wear down, and the statistics reflect that. In 38 games the rest of the way, Utley's offense disappeared, and he hit .221/.299/.356, with three homers in 38 games. Even though he hit well enough in the playoffs, he was pretty clearly gassed by season's end. And with most of the lineup aging and/or banged up, that's precisely what the Phillies want to avoid this season.