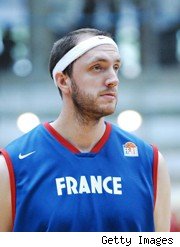 A year ago, one of the biggest Spring Training storylines was that of Roy Halladay's velocity. Or, more specifically, the lack thereof. The Ace right-hander, who dominated hitters in his first two seasons with the Phillies, wasn't himself last spring, and appeared to be suffering from a lack of velocity on his fastball.

At first, it wasn't that big of a deal, because every pitcher is different and Spring Training is less about throwing as hard as you can and more about getting fine tuning your mechanics and working on specific pitches. But in Halladay's case, there seemed to be cause for concern stemming from the fact that his velocity seemed flat and stagnant throughout the spring. Initially, there wasn't too much to be worried about, but as the season wore on, Doc's velocity continued to be a tick or two slower than what we'd come to expect, and it resulted in one of the the worst seasons of his career.

Are the two related? Who knows. Halladay's dominance has been more about control more than velocity, so it's possible that the drop in speed on his fastball didn't have anything to do with his performance in 2012.

There were many watchful eyes on Halladay during Sunday's game against the Detroit Tigers, when he made his first start of the spring. He allowed one hit and one earned run in two innings, with a pair of strikeouts. The big news, however, concerned his velocity, and David Murphy from the Daily News has all the gory details...
Sunday, one scouts gun had Halladay's fastball sitting around 89 MPH, which would seem to be pretty solid showing for his first competitive outing. To put that in perspective, his fastball averaged between 90-91 last year. The same radar gun had Tigers ace Justin Verlander sitting 91-92 with his fastball on Sunday. Verlander averaged 94-95 last season.


If nothing else, that news is encouraging. It's really hard to gauge a pitcher's velocity this early in the spring, because it does take a while for them to build up their arm strength. But if that velocity is accurate, and if Doc really was throwing around 89 MPH on Sunday, then it figures that he should be in good shape come April.

It will be interesting to see how he fares the rest of the spring, because there is only so much you can take from one start. And considering what the Phillies fans had to go through last year concerning their Ace, they'll take any good news they can get at this point.