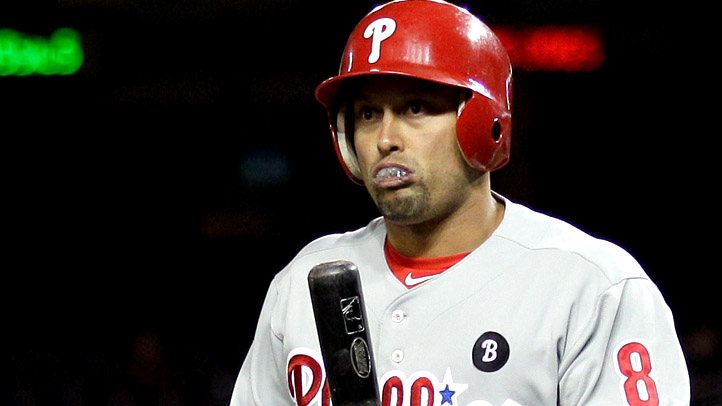 Last week, when the Phillies hosted the Miami Marlins for the first of three games, Shane Victorino was held out of the lineup, due to some pain in his right index finger. While not a serious injury, his hand did cause him some pain on his back swing when he hit from the left side of the plate.

I bring this up now because Shane, as we all know, is a switch-hitter. It's a talent possessed by only a handful of hitters, and anyone who has attempted to hit from their non-dominant side (even in a backyard Wiffle ball game) can attest to how difficult a task that can be. And even among those who can do it, only a fraction of them can actually do it really, really well. Mickey Mantle comes to mind. Or Eddie Murray. Or Chipper Jones.

But Shane? I cannot, in all good conscience, list him next to the all-time great switch-hitters. Nothing against him or anything, but it's true. And for that reason, Shane should throw away the switch-hitting altogether and bat solely from his right side.

It's a crazy notion for a blogger to suggest that a veteran like Shane, who has established himself as an above-average hitter over his career, give up what he's done since he broke into the Majors as a full time player in 2006. But, as you'll see in a moment, it's not the craziest idea in the world.

First of all, Shane is two different hitters from opposite sides of the plate. From the left-side of the plate – the side where he has seen over 75% of his at-bats – he is an average hitter, with a career line of .271/.333/.409, with 46 homers and 103 doubles. It's not horrific, but it puts him smack-dab in the middle of every other so-so hitter in the game.

But from the right side? He's an MVP candidate, thanks to a line of .299/.373/.517. That's an OPS of nearly 900, making him a well-above average hitter. From the right side, Shane has 38 homers and 69 doubles, but far less than half the at-bats as he's seen from the left side, thanks to there being far more right-handed big league pitchers than left-handed ones.

That trend continues in 2012, where he sports a .620 OPS (two homers, six doubles) in 164 at-bats from the left side, and a 1.161 (!) OPS with four homers and five doubles in 43 at-bats from the right.

And true, Shane does have 77 at-bats from the right side against right-handed pitchers, with a very ugly line of .195/.267/.299, but keep in mind that most of those came in 2003, when he was a 22-year-old playing with the San Diego Padres.

I'd be very interested to know whether or not Shane has had any talks with hitting coaches over the course of his career about hitting exclusively from the right side. Surely, I'm not the only one who noticed this – and if you hang out on Twitter, you'll know that I'm not – so it's curious that he continues to be a switch-hitter, even when it doesn't seem to be benefiting him, or the team, at all.

Maybe he thinks he has more value as a switch hitter, or maybe he can't hit righties worth a lick from the right side, but why not give it a shot? Whenever he comes to the plate against a lefty, you know that he's going to put a good swing on the ball from the right side – his natural side. Sadly, the same cannot be said about the left side.

At the end of the day, this post is nothing more than wishful thinking and a hastily-put-together study of Shane Victorino's splits, but boy, would I love nothing more than to see him punish pitchers, day in and day out, from the right side.