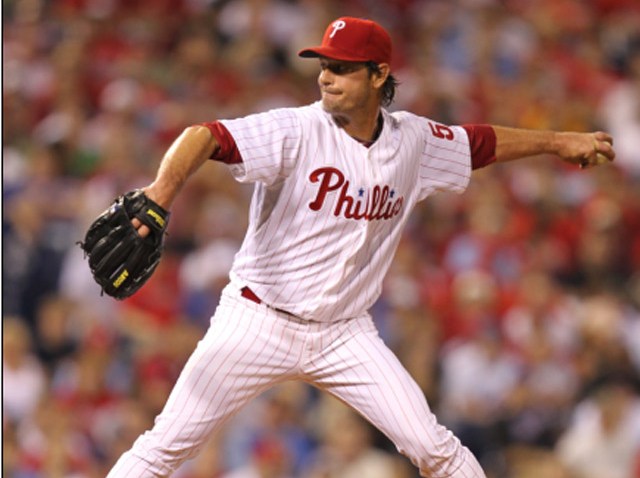 In the professional sports world, the cliché goes that athletes know their time is up when they stop having fun doing what they've done for so long. When it becomes a job, and not a hobby, it's time to go.
That has not happened for former Phillie Jamie Moyer, who, even at 48 years of age, is considering a return to the diamond, and is using his former spring training stomping ground as the starting line for his comeback.
The veteran left-hander is going to be rehabbing from Tommy John surgery at the Phillies' Bright House Field in Clearwater, Fla. Philadelphia has not signed Moyer to a contract, so he remains a free agent, but he asked the Phils if he could use their facilities.
Moyer last pitched a big league game on July 20th, 2010, where he allowed a pair of hits and no runs in an inning of work before leaving due to an elbow injury that would later need Tommy John surgery.
If he is able to work his way back, he will be the first 49-year-old to take the hill since Hoyt Wilhelm did so in 1972, but will still be a decade shy of Satchel Paige as being the oldest pitcher to ever hurl a ball in a Major League game.
But can Jamie successfully return from major elbow surgery? Despite the success rate of Tommy John surgery being in the 90 percentile, Moyer is no spring chicken, and talent tends to go really, really fast when you hit a certain age. Of course, that doesn't necessarily apply to Moyer, who built a nice career despite not being able to overpower hitters. When all you throw is 80-mph junk, maybe age doesn't matter. Just look at Phil Niekro, whose knuckleball allowed him to pitch until he was 48.
That said, the odds are likely stacked against Moyer. The Phillies certainly won't be looking for his services, given the fact that they will have six or seven starters vying for five rotation spots, and Moyer isn't necessarily a bullpen guy, so his options will be limited somewhat. More than anything else, this is a human interest piece, because it's not every day that a Major League pitcher is knocking on half a century.
But if his health and talent check out, it wouldn't be too surprising if a team like the Florida Marlins -- young, but talented enough to compete -- came calling, looking for a veteran presence to help mold their younger arms. It worked for Cole Hamels, who was privy to Moyer's tutelage during his time with the club.
Also keep in mind that he is 33 wins shy of 300, a milestone that could be reached within two or three seasons, so there is definitely value in that for a club strapped for attendance or interest from the local fan base. If Jim Thome's pursuit of 600 home runs gave a boon to the Minnesota Twins, who is to say that Moyer's pursuit of 300 wouldn't be of vast importance to some other team, especially in light of the fact that he might be the last pitcher for quite some time (or ever) to reach that number?
Whatever the case may be, I wish Jamie all the luck in the world in his quest to return to the game that rewarded him with millions of dollars, the adoration of fans the country over, and of course, a shiny World Series ring.