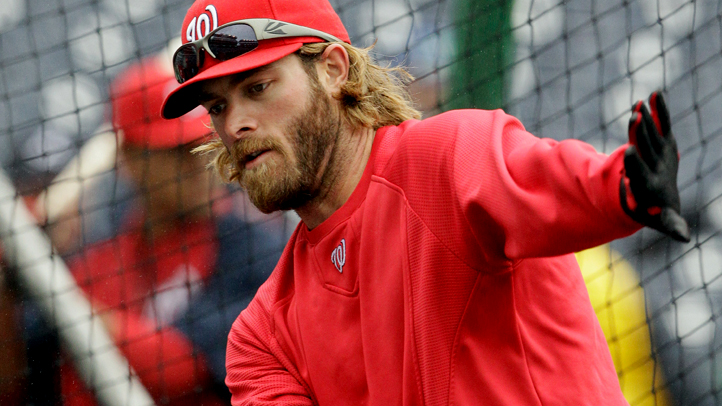 Jayson Werth -- and his beard -- returns to Citizens Bank Park tonight for the first time since joining the Nationals for a free agent contract worth roughly four hundred zillion dollars. And while Werth is now rich enough to own his own team of Navy SEALs, the move hasn't exactly done wonders for his bat. Without the likes of Ryan Howard supporting him in the lineup, Werth's average is a miserable .233. His OPS is down a full 100-plus points from his career average, and his slugging and on base percentages are also way down from his career numbers. So perhaps he's excited to come back and hit in a park where he used to be, you know, good.

For his part, Werth has gone out of his way to not talk about his return this evening:
"I'm not talking about it," he said when, after the Nationals' 5-2 victory on Sunday, a Philadelphia reporter raised the subject of his return. "I'll cover that stuff on Tuesday. Good try, though."
And that's to be expected. Werth was always happy to be a supporting player in Philly, and he's clearly uncomfortable being the top dog in the Nats' lineup. This is one of those free agent signings where both teams involved end up suffering. The Phillies could certainly use Werth's bat back in the lineup. He fits there. That's where he did his best work. Out of that comfort zone, he's been a lesser player. Perhaps the past months numbers are an anomaly, but it certainly wouldn't be the first time a high-priced baseball free agent failed to live up to his billing. And now Washington is on the hook for Werth's enormous contract while they wait for their two crown jewels (Bryce Harper and Stephen Strasburg) to become the players they expect them to be. Both teams are hurting from the transaction.

Maybe you saw this coming. Maybe you'll boo Werth during the game because of this. I'm sure Werth expects a smattering of catcalls tonight, along with some respectful applause. I doubt there will be many boos. For one thing, Werth didn't burn bridges leaving here. He was courteous and professional. And the crowd tonight will still likely be riding high from Sunday's night's impromptu Osama bin Laden death party. Werth should send the Navy flowers.

In the end, Werth's return will probably end up being a quiet event that elicits neither boos nor jeers, but rather deep pangs of regret. Werth was better here. Werth should be here right now. But he isn't, and that fact has yet to benefit anyone involved.