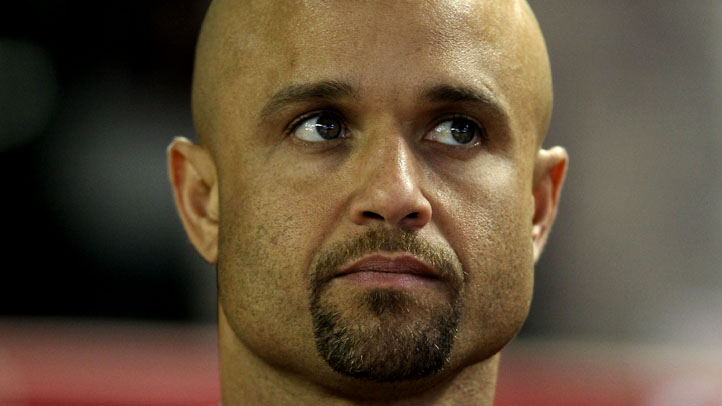 When the Phillies migrated north in late march to begin their 2012 campaign, there were some obvious and notable concerns surrounding the team, specifically the lineup, which was going to be partially cobbled together from spare parts and platoon players until reinforcements arrived via trade, the minor leagues, or the disabled list.

The bigger question marks were about the unknown quantities that the team had, like Freddy Galvis (can he hit Major League pitching?), Jim Thome (can he be effective in a limited role?), John Mayberry (was 2011 a fluke?), and so on.

But one question the Phillies didn't count on asking was this: Is Placido Polanco ever going to hit again?

The third baseman, who hit nearly .400 over the first month of the 2011 season, was the not-so-proud owner of a .179 batting average following Wednesday night's loss to the Giants, where he went 0-for-4 with a strikeout. In 11 games, he has one seven hits (one for extra bases), one RBI, one walk, and an OPS of .425.

Some might say it's early in the season, and 11 games is hardly indicative of what might happen over the next 151. And that's absolutely true, but that doesn't make Polly's struggles and less disconcerting, especially considering that his lack of production goes back much further than April 5th, 2012. To see just how far back, we can go to May 1 of last season, where he was hitting .398. Over the next 96 games, he hit just .243 with three homers and an OPS of .591.

Yikes.
Injuries have certainly taken their toll of Polanco, who suffered through a sports hernia for much of 2011, so that does explain his late-season struggles, for sure. But after having offseason surgery to correct the injury, it appeared that he would return to his normal self. Unfortunately, that has not been the case.
While it can be expected for him to struggle some, given that he is 36-years-old and the owner of more than a few injuries over the last few seasons, no one could have envisioned that the "professional hitter" Polanco – owner of a .300 career average – would be one of the team's worst hitters so far in the season and for much of the last.
Again, it's 11 games, and not everyone starts off like Matt Kemp. Look at Albert Pujols, who is still without a homer so far, and is sporting a line of .267/.313/.356. It's not an apples to apples comparison, but the point is that some guys start off slower than others.
And maybe time is the remedy for Polanco's offensive malady. Time for him to work out the kinks and get his swing right. Unfortunately, the Phillies don't have much of that, given their already weakened offense, so it's incumbent of him to figure it out, because there are no quick fixes at the hot corner. And right now, the Phillies need all the firepower they can get.