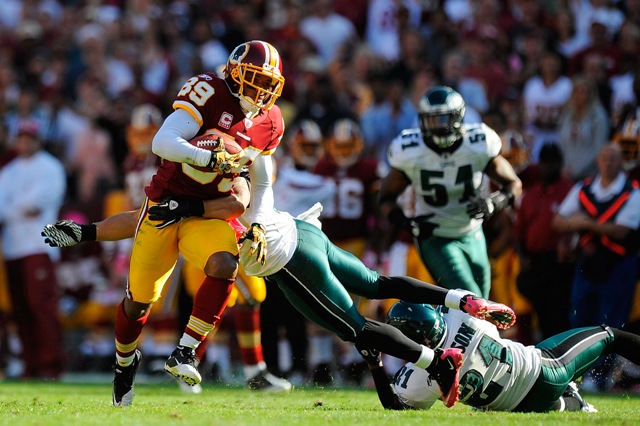 It's that time of week. Time to man up and make your pick for this week's game. Get it right, and you'll be able to afford that $200 prix fixe New Year's Eve menu at your favorite local bar, complete with a red wristband that entitles you to free drinks all night long (provided you can tolerate waiting an hour for each round)! Get it wrong, and you're probably stuck at home for New Year's, gorging on Chinese food and watching kung fu movies. Hey, wait a second, that's a WAY better New Year's Eve. Here's hoping you tank. Here we go:

Peter King: Eagles 17, Redskins 10. "Suddenly, I don't hear everyone lining up the firing squad for Andy Reid." You are so, so wrong about that, sir.
Ten of 10 ESPN Experts: Eagles. I'd just like to note that Merril Hoge does not appear to have held any season-long bias against the Eagles. He's still INSANE, mind you. But he's not biased.
Yahoo! Users: Eagles. (no score)
Mike Silver: Eagles. (no score)
Pete Prisco (CBS): Eagles.
AJ Daulerio: Eagles.
Index Card I Threw Up In The Air With The Name Of Each Team On Either Side, Seeing Which Team Would Land Face Up: Eagles. (Card Record: 9-6)
The Wife: Redskins.
Me: Aw, it's the last game of the season! I'm so sad! I'm gonna miss this team and the myriad ways in which it let an entire city down. I had such high hopes for them. I had visions of Andy Reid butchering the clock at the end of the NFC title game, of Mike Vick missing twelve games due to various sprains and leg breaks, of DeSean Jackson managing to be useful. Alas, that will all have to wait until next season. And the best part is: NO ONE IS GONNA BE FIRED! Isn't that great? You get the same, horrible coaching next year! Oh goody! EAGLES 40, REDSKINS 10. (2011 picks: 9-6)
Yours in the comments.