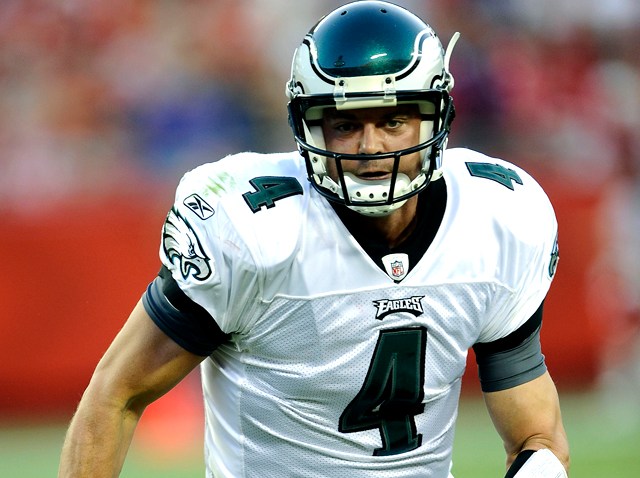 It's that time of the week. Time to man up and make your pick for Sunday's game. Get it right, and you will be worshipped by all. Vegas will open its high roller suites to you and you only. MIT grads will study your handicapping technique. NFL front offices will consider offering you a job before deciding it's too wacky. Get it wrong, and you'll spend your week as you always do: mainlining Easy Cheese while ignoring that smell in the corner of the apartment. Here we go:

Peter King: Packers 30, Eagles 16. "Look for Packers' defensive coordinator Dom Capers to throw lots of looks at Kolb in his opener as the Eagles' quarterback, and look for some of those rushes to hit home." Please note that this could describe every defensive coordinator's plan for every game. Ever.

Bill Simmons: Packers. And he picked them without making them analogous to a reality show star or an 80's movie. Quite a bit of Herculean restraint on his part.

Eight of Ten ESPN Experts: Packers.

Michael Silver: Packers.

86% Of Yahoo! Users: Packers.

Pete Prisco (CBS): Eagles.

AJ (Eagles fan I know): Eagles 57, Packers 0 ("We finally have a QB who can get the ball airborne and you expect me to pick against my team? No way. Kolb will throw for 6,000 yards this year and hookup with more women than Pat Burrell did when he was here. Book it.")

Index Card I Threw Up In The Air With The Name Of Each Team On Either Side, Seeing Which Team Would Land Face Up: Packers

The Wife: Packers

Me: I think the Packers are overrated coming into the year, given the age of their o-line and the major lapses they had on defense a year ago. Should they really be favored on the road against a playoff team from last year, much less one with the kind of skill position talent these Eagles possess? Everyone expects Philly to lose this game. But if Kevin Kolb starts off this year with a huge game against Green Bay, suddenly the whole outlook of the year is quite different. I picked the Eagles to lose this game yesterday. I'm changing my mind. EAGLES 27, PACKERS 26.

Yours in the comments.