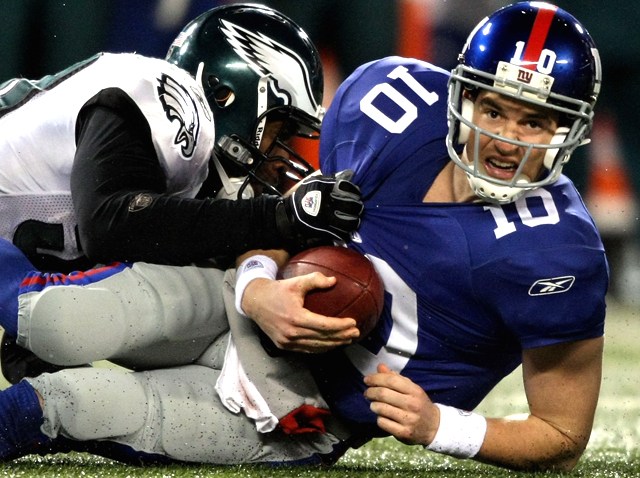 It's that time of week. Time to man up and make your pick for this week's game. Get it right, and you can finally afford that Fender guitar you've had your eye on. You can buy it, take lessons, realize playing guitar is way hard and hurts your fingers, and then sell it to the kid down the street for three bucks. Get it wrong, and you'll never get to experience that kind of thrill. Here we go:

Peter King: Eagles 34, Giants 24. "Too often we think of (Tom) Coughlin as a totally unfeeling automaton." How could Tom Coughlin possibly give you that impression? Could it be his stern demeanor and frequently exposed cyborg endoskeleton?

Seven of Ten ESPN Experts: Eagles.

Michael Silver: Eagles.

77% Of Yahoo! Users: Eagles.

Pete Prisco (CBS): Giants.

AJ Daulerio: Eagles. ("Vick is goodness.")

Index Card I Threw Up In The Air With The Name Of Each Team On Either Side, Seeing Which Team Would Land Face Up: Giants (Index Card record: 4-5)

The Wife: Giants.

Me: Last week's loss to Dallas has me convinced the Giants are a fraud team. They have gaudy stats. But look at who they've beaten: Dallas (back when Wade was in charge), Seattle (awful), Detroit (without Matt Stafford), Houston (falling apart), Chicago (who played without an offensive line that night), and Carolina, the worst team in football right now. That's a fraud's resume. Even if Chicago is 7-3, anyone who saw that Giants-Bears game knows it was one of the absolute worst games ever played in NFL history. So even though this week is a good time to call for a contrarian alert and pick New York, I can't do it. The Eagles are legit. And the Giants, just like last year, are a ruse. Also, I picked the Skins last week and feel incredibly dumb. EAGLES 30, GIANTS 20.

Yours in the comments.