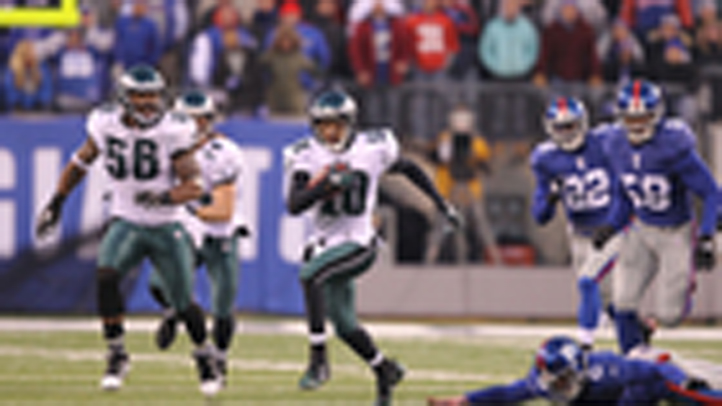 It's that time of week. Time to man up and make your pick for this week's game. Get it right, and you could soon find yourself lauded as a genius! Who knows, you might even get tapped to run for public office. A group of shadowy political operatives could hand-select you as the Chosen One, the person with the right combination of looks and moxie to go ALL THE WAY. They'll give you all your talking points. They'll come up with your slogan. They'll do a thorough background check to make sure you have no skeletons in your closet. And then they'll open their corporate coffers and lavish you with fancy bus rides and seasoned aides. You'll become a star overnight. A WINNER. And then it'll all come crashing down when an uppity newspaper finds out about that time you blew up a mailbox in sixth grade. Politics, it ain't for wussies. Here we go:

Peter King: Eagles 26, Giants 23. He picked the Giants to beat the spread? Well, he's clearly biased against the Eagles and has it in for them.

Ten of Ten ESPN Experts: Eagles. (no score) Even Hoge picked the Eagles this week, making him 1 for 3 on the year. Jaws is also back on the Philly bandwagon after picking the Falcons last week. There are TEN games this week that the ESPN people unanimously picked. TEN! No one even had the guts to take the Bills. So, so weak.

76% Of Yahoo! Users: Eagles. (no score)

Pete Prisco (CBS): Eagles. (no score)

AJ Daulerio: Eagles.

Index Card I Threw Up In The Air With The Name Of Each Team On Either Side, Seeing Which Team Would Land Face Up: Giants (Card Record: 1-1)

The Wife: Giants.

Me: Now that we know Mike Vick will start this game, it makes this whole "picking the game and feeling good about the pick only to be proven horribly wrong" thing much, much easier. Again, this game will come down to a couple of basic matchup issues. The Eagles need to stop the Giants running game (I don't think they can), and the o-line needs to either stop the Giants pass rush or hope Vick can elude it (that sounds doable). I think the Giants are a lousy team, but this Eagles defense just got buried last week. They need someone other than Trent Cole and Cullen Jenkins to play well in the front seven. A DeSean punt return might also help. Remember that last year? Oh man, that was something. EAGLES 30, GIANTS 24 (2011 picks: 1-1).

Yours in the comments.