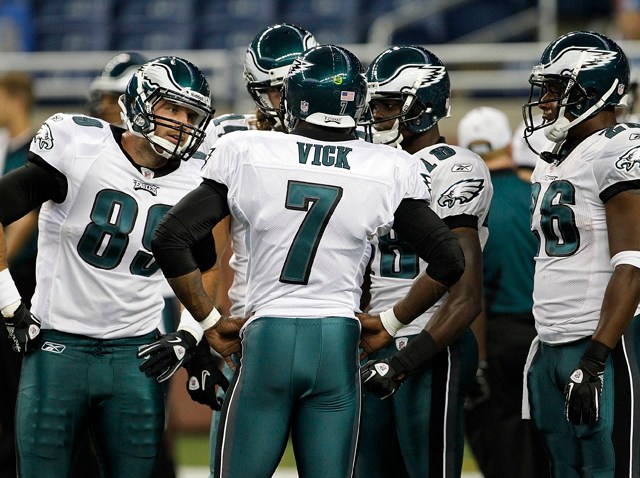 It's that time of week. Time to man up and make your pick for this week's game. Get it right, and you can finally afford that rhinoplasty operation you've been dreaming of for years. The doctor has a slot open next Monday at 12:30 a.m. Remember: do not eat anything the day of your surgery, or else there could be ham clogging your new nose. Get it wrong, and it's more "Mr. Beeks" jokes for you. Here we go:

Peter King: Eagles 33, Jaguars 20. "The Eagles' offensive line is the worst it's been in a decade, and deep down, that had to play some part in Andy Reid's decision to go to Michael Vick on Tuesday." I hope this is true, but I suspect Andy made his decision by drinking a cup of coffee that Marty Mornhinweg laced with GHB, at which point Marty dragged Andy to a basement and flayed him with a riding crop until Andy finally agreed to give in and make the sensible move. That's really the only way you get Andy to do anything.

Eight of Ten ESPN Experts: Eagles. Daring as always.

Michael Silver: Eagles.

85% Of Yahoo! Users: Eagles.

Pete Prisco (CBS): Jags.

AJ Daulerio: Eagles ("Prediction for Vick's stats against the Jaguars: 450 yards passing, 325 yards rushing, 7 touchdowns. Book it. This is why I am no longer a contributor to RotoWorld.")

Index Card I Threw Up In The Air With The Name Of Each Team On Either Side, Seeing Which Team Would Land Face Up: Jaguars (Index Card record: 2-0)

The Wife: Eagles

Me: All this time we've been yapping about Michael Vick and Kevin Kolb and Andy Reid and who spiked Andy's oatmeal. It's easy to overlook the fact that the Eagles are kind of… what's the word?… oh yes, PUTRID… on defense. I mean, really truly bad. So they're going to need those 450 yards passing, 325 yards rushing, and seven TD's from Mike Vick. Because if Detroit can hang a 32-spot on this club, Lord only knows what MJD can do. EAGLES 44, JAGS 41.

Yours in the comments.