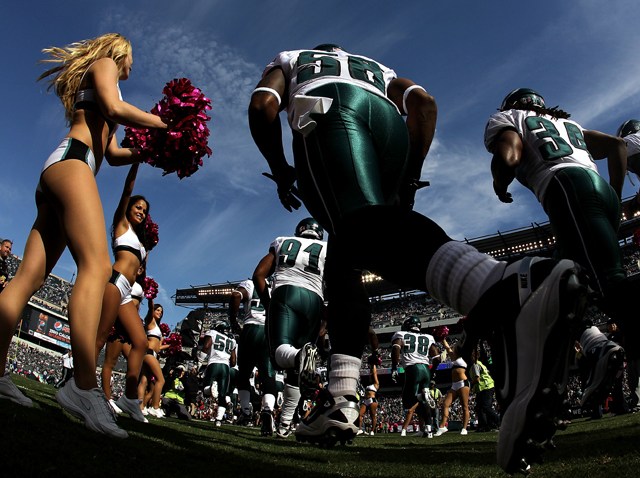 It's that time of week. Time to man up and make your pick for this week's game. Get it right, and you'll have enough money to buy everything on your Christmas wish list: the Vespa scooter, the yard-long box of European cookies at Trader Joe's, the taxidermied panda, the hovercraft from Hammacher Schlemmer, the San Diego Chargers, those little sponge animals that blow up real big in the tub, the full suit of plate mail armor, the handgun, the Tyco racecar track, the hot tub, the Wheel of Fortune home game, the Cartier watch, the death warrant for Justin Bieber, and that box of peppermint bark from Williams Sonoma, which is the most expensive item of them all. Here we go:

Peter King: Eagles 31, Cowboys 27. "It's all about the quarterback here...but could that quarterback be Jon Kitna?" Well, no. Not really.

Eight of Ten ESPN Experts: Eagles.

Michael Silver: Eagles.

78% Of Yahoo! Users: Eagles.

Pete Prisco (CBS): Eagles.

AJ Daulerio: Eagles.

Index Card I Threw Up In The Air With The Name Of Each Team On Either Side, Seeing Which Team Would Land Face Up: Eagles (index card record: 5-7)

The Wife: Eagles.

Me: The Cowboys are playing extremely well despite having nothing to play for, and now they have a chance to play spoiler to Philly with two head-to-head matchups in the final four games of the season. I don't like everyone taking the Eagles here, so time for CONTRARIAN ALERT. You beat the Eagles by corralling Vick and forcing him to throw short all game long, which he greatly dislikes.

The Dallas rush came alive against Indy last week. I see no reason why they can't pull it off again. Cowboys 20, Eagles 13.

Yours in the comments.