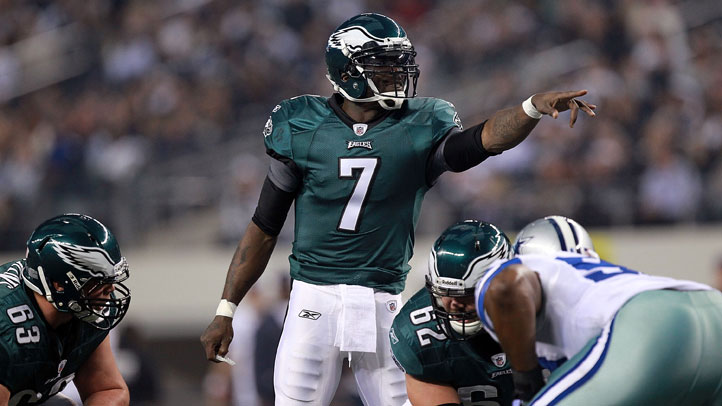 Only the optimistic and delusional think the Eagles still have a shot at the playoffs but there are eight games on the schedule. First up: the Cowboys.

ESPN: The tide has officially turned, the Eagles' bandwagon is near-empty and people have pretty much moved on from the prospects of Philly being anything other than a banged-up team striving for mediocrity. Seventy-eight percent of ESPN's experts like the Cowboys -- on the road, no less. Of the Eagles' many issues, the offensive line tops the list. With virtually no ability to protect Michael Vick, it'll be a struggle to win many games over the next two months. Even against a just-as-dysfunctional Cowboys' team.

CBSSports.com: Just like their ESPN counterparts, CBSSports.com's experts like Dallas 7-2.

CBSSports.com's Pete Prisco is one of those 78-percenters. "This is almost a playoff-elimination game. Dallas is playing a second successive road game, while the Eagles are on a short week. The Cowboys have the better team. They will get after Mike Vick against that undermanned line. Dallas stays alive in the division race. 28-21."

Yahoo Sports: We're detecting a pattern: Two of three Yahoo experts like the Cowboys. It's worth reiterating: despite the Eagles favored by 2.5, conventional wisdom is heavy on the Cowboys. It's one thing to face that type of skepticism against the undefeated Falcons but Dallas has the same record as Philly.

What Vegas is saying: Finally, some good news for the gambling degenerates who also happen to be Eagles' fans. Via to OddShark.com: Philly is 10-2 against the spread in the last 12 games vs NFC East foes. Dallas, meanwhile, is 1-9 against the spread in the last 10 games vs NFC East foes. It's not much but it's something.

My wife. She somehow knows less about football that us but remembers Cowboys owner Jerry Jones from the last season of Entourage. It was enough to make her pick the Eagles.

Me (4-2): The Cowboys are a mess and if the Eagles had even a semi-healthy offensive line we'd pick them here. But they don't. It's Evan Mathis and four other guys, many of whom have struggled to protect Vick. We don't see that changing this week. Cowboys, 21-17.